Staying in the house can quickly start to feel repetitive or mundane. When you find productive things to do at home and you're purposeful with your time, you'll be surprised at what you can accomplish!
If global or local circumstances require you to remain at home right now, you may be struggling with changes to your routine. Regardless of whether the reasons for your home confinement are health- or economic-related, here's a list of productive things you can do at home to make the most of your time.
Even when conditions improve and normal routines resume, keep these ideas on hand! They make great down-time activities for anyone, anytime.
1. Go for a daily walk.
Crowds and public spaces may be off-limits, but that doesn't mean you're stuck inside. In fact, there are many reasons to spend time outdoors, if you can. Find a safe outdoor space, such as your neighborhood or backyard, and get out in the sun every day.
2. Schedule your days.
If you're finding that your days feel aimless, try creating a daily schedule. Setting aside time for designated activities will help you stay on top of your tasks and be productive.
3. Record your story.
Everyone has a story to tell, including you! With your free FamilySearch account, check out these prompts to help you start writing your stories.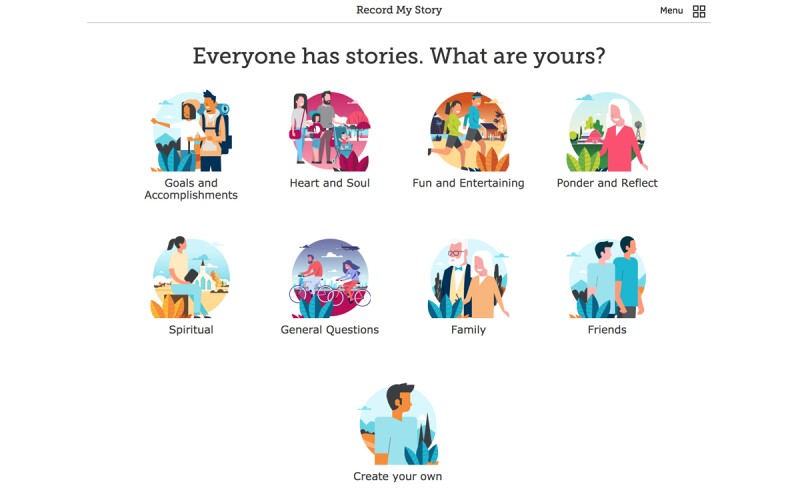 4. Do some spring cleaning.
This is the perfect time to do some spring cleaning! Organizing the clutter can make your home a more positive space.
5. Start your family tree.
Follow these easy guides on how to use Family Tree as you start your journey into your family's history. Exploring your history will help you feel connected to your past and your family.
If you're already connected to the Family Tree, try exploring record hints to find more of your family.
6. Learn a new skill.
Use the time to develop your skills. You might learn something that will boost your résumé or pick up a hobby you've always wanted to try.
7. Plan your dream vacation.
While now is not the time to travel, it's a great time to start planning. To get the ideas rolling, have you ever looked into heritage tourism?
8. Revisit your New Year's resolutions.
A lot has happened since 2020 started. If your New Year's resolutions are gathering dust in the corner, reignite your drive and work on those goals.
9. Start exercising at home.
Whether you're looking for a replacement for your gym outings or starting from scratch, establishing an exercise routine will help you stay healthy and positive.
10. Find a way to serve.
Look for ways to help the people around you. You might bring groceries to someone at risk (older adults or adults with health conditions) or help someone set up a home office. Just stay safe and avoid others if you or they aren't feeling well.
11. Create a master résumé.
A master résumé can be an invaluable tool to have on hand. Essentially, it's a complete record of your marketable skills and experience, a resource to help you create targeted résumés when you're ready to apply for a specific job.
12. Start a garden
Start planning your backyard garden. Research plants that do well in your area, find the perfect spot in your yard, and prepare the area. While you may need to wait out a quarantine to get some of the supplies, you can get a lot of the initial work out of the way!
13. Satisfy your curiosity.
If you're looking for things to do when you're bored at home, it's the perfect time to soak in some of the information the internet has to offer. For example, learn what your name means, or discover the history behind Frozen.
14. Discover your roots.
If you're connected to the FamilySearch Family Tree, try the Where Am I From? tool to explore your roots.
15. Read a book.
While you're stuck at home, reading can transport you to another world filled with adventure, not to mention the benefits reading can have for you.
16. Learn how to cook something new.
Explore new foods from around the world and stretch your cooking muscles simultaneously. You never know—you might find your new go-to dish.
17. Meditate.
Meditating could be a way to help the stress of the current situation melt away. You never know until you try!
18. Bond with your family.
This time at home provides the perfect opportunity to spend quality time with your family or your roommates. Be creative, and try new ways to connect.
19. Brush up on neglected hobbies.
If it's been ages since you've painted, played the piano, or stretched those writing muscles, there's no better time than the present to pick up your hobbies where you left off.
20. Learn a language.
With the help of the internet, the world is more and more interconnected. Becoming multilingual can be a huge asset to your career or as you travel and interact with new people. It can also make it possible to enjoy new shows or books.
21. Preserve family memories.
Sharefamily memories with your family, or explore the stories and photos your family has shared. Saving these precious memories now can serve as a powerful reminder in years to come.
22. Explore this list of in-home activities.
These easy in-home activities could provide some much-needed variety as you try to find productive things to do at home. This list also provides some fun ideas.
23. Find a new podcast.
There are podcasts on pretty much any topic, so find something you're interested in, and jump right in!
24. Index historical records.
Recording information from historic documents can make them searchable online and help people find information about their families. Try it for yourself.
25. Network.
Just because you're stuck at home doesn't mean you can't network. Find new connections on LinkedIn, or send a simple email or text to people you know to see how they're doing with all the shutdowns.
26. Clean up your computer.
Admit it—there's some unnecessary clutter on your computer or phone. Organize those emails or files, delete unnecessary apps, and make it easy to find what you need when you need it.
27. Write in a journal.
Journaling is a great way to get your thoughts or ideas out there, and it can help you stay stress-free.
28. Play games.
Card games and board games will help relieve that boredom and help you enjoy the extra time you have with your family. It might not seem like much, but it will help you all become closer!
29. Learn about your family name.
Discover where your last name comes from, and take a photo of yourself in traditional clothing from that region. It's one way to have fun while learning about your family heritage.
30. Find opportunities to work from home.
If you're unable to continue your work from home, find ways to earn extra income during the time off. Freelance websites can help you look for temporary work online.
A word to the wise—if any opportunity asks you to pay first, it is probably not a good option.
31. See which ancestors you look most like.
If you're connected to the FamilySearch Family Tree, try Compare-a-Face to see who in your family tree shares your good looks. You can also use this activity to find your doppelgänger using any photo you upload.
32. Send cards and letters.
Mail off cards and letters to family and friends to brighten their days at home. Getting mail is a quick way to make anyone's day better.
33. Take inventory of your belongings.
Take pictures and make lists of everything you have. This list might save you a huge headache if you ever need it for insurance purposes. Update the list every six months to avoid the hassle of starting over down the line.
Hopefully this list helps you find a way to be productive at home. In these times of uncertainty, remember that there are still things you can do to make good use of your time, contribute to your community, and support your family. If we all band together, we can collectively make a difference.
Share your stories and ideas below.How have you used your time at home?