The new family groups feature makes it easy to send FamilySearch messages to a selected group of your living relatives on FamilySearch. Let's take a look at this new feature and how you can use it to enhance your family history research and collaborate with your relatives.
How to Find the New Family Groups Feature
Family groups are available on both the FamilySearch website and the Family Tree mobile app.

Website
Click your name in the top right corner of the page, and then click Family Groups.
Apple iOS Mobile App
Tap More in the bottom right corner of the screen and then Family Groups.
Android Mobile App
Tap the menu button and then Family Groups.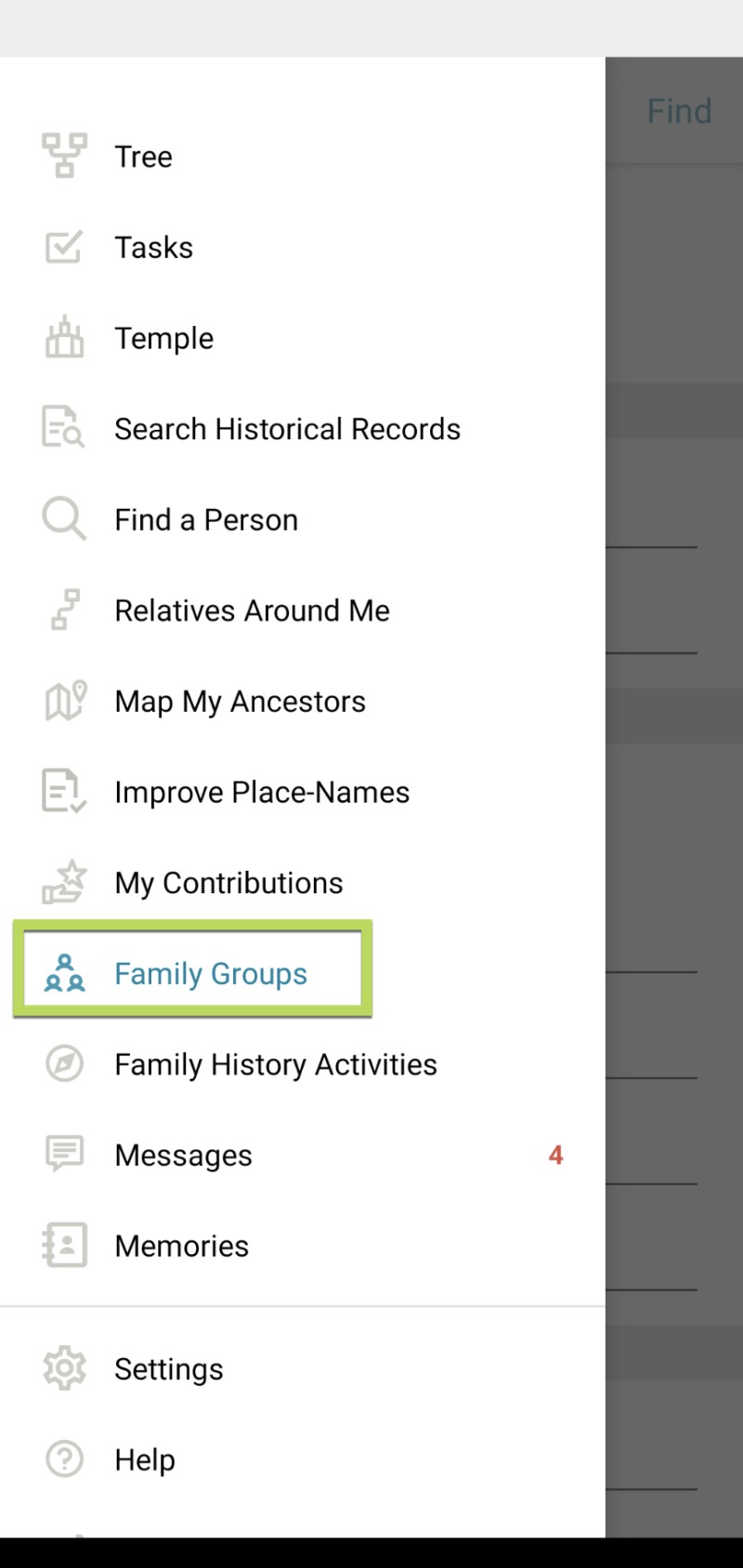 How to Create a Family Group
Currently, each FamilySearch user can be a member of one family group. If you are not yet part of a group, you can create one and then invite your family to participate by following the steps below.

Open the family groups feature, as described previously.
Select Create Group.


Fill out the required information. You must give your group a name. A description and photo are optional.
How to Invite Others to Join the Family Group
With your group created, you can now invite other FamilySearch users to join your group.
On the website, you can invite people by email, so you will need the email address of each person you want to invite.
On a mobile device, you can send the invitation by email, messaging, or any of the other options available on your device.
To join the group, the recipients open the email or message, sign in to FamilySearch, and accept the invitation.
Then you, as the group administrator, go into the group and approve each new member.

How to Send Messages to a Family Group
All members of a family group can easily send FamilySearch messages to each other simultaneously. This enables easier collaboration about all types of family history work.
Anyone can be group members and benefit from this easier communication as long as they have a FamilySearch account.

Frequently Asked Questions
How many family groups can I join?
You can join one group. That group can be either one you create or one you are invited to join. We will consider allowing users to be in multiple groups in the future.
How many people can be in a family group?
A family group can have up to 100 people.
Who can create and join family groups?
All FamilySearch users can participate in family groups.
How does group administration work?
The person who creates the group is automatically a group administrator. That user can assign up to 2 additional group members to be administrators. Group administrators can:
Invite and approve new group members.
Change the name and description of the group.
Remove group members.
Assign or remove administration rights from other users.
Can group members share Family Tree private spaces?
No. At this time,
private spaces
are still visible only to the user who created them.
Can group members see or share private memories?
Create Your Own Family Group
Using family groups, you will be able to connect to your family in new and easier ways. So what are you waiting for? Create your family group, and start collaborating with your family today!