Planning a successful family reunion can be overwhelming—you can almost imagine yourself drowning in all the details and decisions. Before you get too distressed, it makes sense to ask: what will make your family reunion successful? Although everyone has a different picture of the ideal event in their mind, most would agree that a successful reunion brings family together and allows them to reconnect, share stories and experiences, and strengthen their understanding and love of their heritage.
To help you nail down the major elements of your event and free your mind to be creative about ways to achieve the real goal, we've put together a nuts-and-bolts guide to planning a family reunion. We'll focus on big questions that will help you know you are on the right track and free up time to plan for the more meaningful aspects of the event.
If you answer these questions as early as you can, the rest of the details will fit nicely in the framework you build.
1. What type of reunion will you have?
The One-Day Extravaganza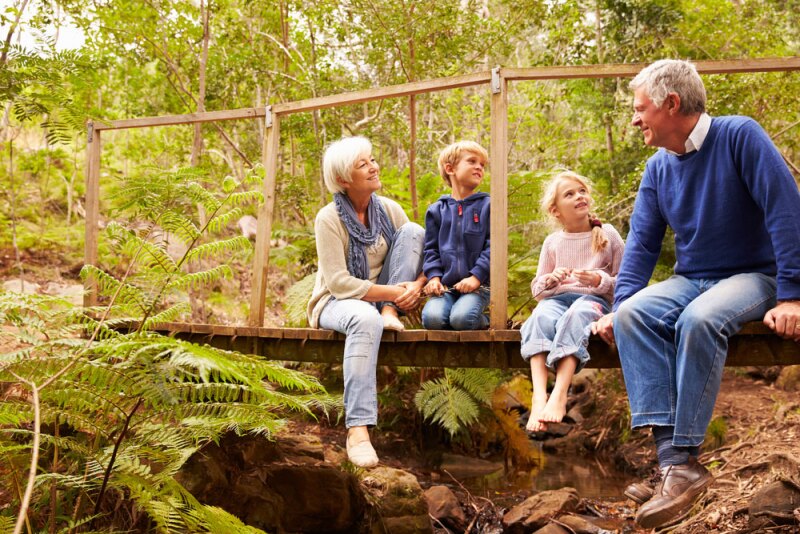 This works best for:
Groups of any size
Family members who live relatively close to each other. If family members have to travel a long distance for the reunion, having a one-afternoon event might not feel worth the trip.
The Weekend (or longer) Adventure
This works best for:
Small to mid-size groups
Family members who live far apart from each other
Here are some checklists to keep you on task:

2. When will the reunion be?
Many reunions take place when the weather is warm and schedules are flexible. This is not required though. Do a quick poll of family members to find dates that work.
Once you set a date, don't change it—even if your cousin Fred tells you that it's the least convenient day of the whole year. No date is going to work for everyone.
Here are some survey tools to help take a poll to find the best time for most family members:
3. Where will the reunion be?
We've divided our recommendations on location by reunion type.
One-day extravaganza
Since this is a one-day affair, the location needs to be central and easy.
Option A: Someone's home
If the group size isn't too large and someone is willing to host, a home might be perfect. It's free and if it rains, everyone can move indoors.
Option B: A park
Parks are often cheap and have lots of space for outdoor fun—just be sure to rent a pavilion or have a back-up plan in case of rain.
Option C: A rented indoor space
If you're willing to pay, this guarantees weather won't interfere.
Longer adventure
There are several ways to approach this. Here are two to consider:
Option A: Near family
If there is a central location near most people, you could choose that location. If not, you could hold the reunion near one family and rotate locations to be near a different family each year. Both options allow for a home base and cut travel costs—at least for one family a year.
Option B: Destination reunion
Simply choose a fun place to go. The advantage of this option is that many families don't have the funds to travel for both a vacation and a reunion, so this allows them to accomplish both at once.
Here are some destination ideas to get you thinking: "Where? Choosing a Reunion Place," Reunions Magazine.
4. Where will everyone sleep?
This is relevant only for multiple-day adventures, and it depends on where you hold the reunion. Here are some possibilities:
Option A: Family member's house
In the right conditions (the reunion is near one family's home, the family has space, the group is small enough to fit in the home, and you don't think everyone will strangle each other), you can have everyone stay at someone's house.
Option B: Rental house
If a family house isn't realistic but you like the concept of shared meals and sitting around the living room to talk after the kids are in bed, look online for a large rental house.
Option C: Condos/hotel rooms
For larger groups or families who do better with a little space and privacy, consider renting adjacent condos or hotel rooms.
Option D: Under the stars
An outdoor setting like camping in tents or staying at clustered cabins means you have outdoor gathering space (as long as it doesn't rain).
Here are some hints for finding the right rental property: "How to Decide Which Vacation Rental Site to Use," Business Insider.
Once you've gotten these first four decisions made, take a deep breath. The worse is behind you! In a pinch, other decisions can be made within a couple weeks of the event. Here are the last two questions to answer:
5. What should you eat at the reunion?
Option A: Potluck
If families live close, potlucks are cheap and easy for one-day events.
Option B: Catering or take out
This can work for a one-meal event or for the big meal of a longer event. Make sure you find a way to have people chip in for costs.
Option C: Divide and conquer
For longer reunions, remember that hooking up for at least some of the meals provides important bonding time. Let each family cover a meal, and then let them do what works best for them—whether that means making a homemade four-course meal or ordering pizza.
Here are some fun food ideas: "The Ultimate Family Reunion Meal Planning Guide," Favorite Family Recipes
6. What activities should you have at the reunion?
While you can be as elaborate as you want, here's the area you can also really simplify. Instead of choices, we've provided ideas here:
Maximize meal times. Focus on food and time for talking, and keep organized activities minimal. Provide simple options for kids and teens—a playground at a park, a soccer ball and football, some Frisbees, some easy crafts, or some party games that don't require much prep.
Share the schedule. For longer events, divide planning responsibilities by day between families.
Offer options. Plan outings and activities that fit different ages and abilities, and let people select what works for them.
Have some downtime activities on hand. Games and movies can fill an unexpected rainy afternoon.
Here are some more activity ideas:
Tip 1: Don't overschedule. Remember that it takes large groups a long time to do anything.
Tip 2: Be flexible. Don't pressure people into joining activities. If someone wants to skip the game to chat or stay back from the hike to nap, let them.
As you plan, keep in mind what reunion success really means, and make decisions that help you achieve that—and you will be well on your way creating an event everyone will remember.