The Great Depression and World War II bookended the 1930s, but fashion flourished anyway during this decade. Glamorous Hollywood screen stars inspired new looks for women, men, and even children. Inexpensive fabrics, affordable catalog clothing, and homespun ingenuity let anyone copy styles previously worn by the wealthy. Here's a quick look at 1930s fashion.
1930s Fashion for Women
The young, boyish silhouette of 1920s women evolved into a conservative, sophisticated shape in the 1930s. The ideal, popular profile was tall and thin, with strong shoulders and slim hips.
Women's Dresses
At home or in public, women most commonly wore dresses with wide shoulders; puffy sleeves; modest necklines; higher, belted waistlines; and mid-calf flared hemlines. Frilly bows, ruffles, buttons, and other details often decorated dresses.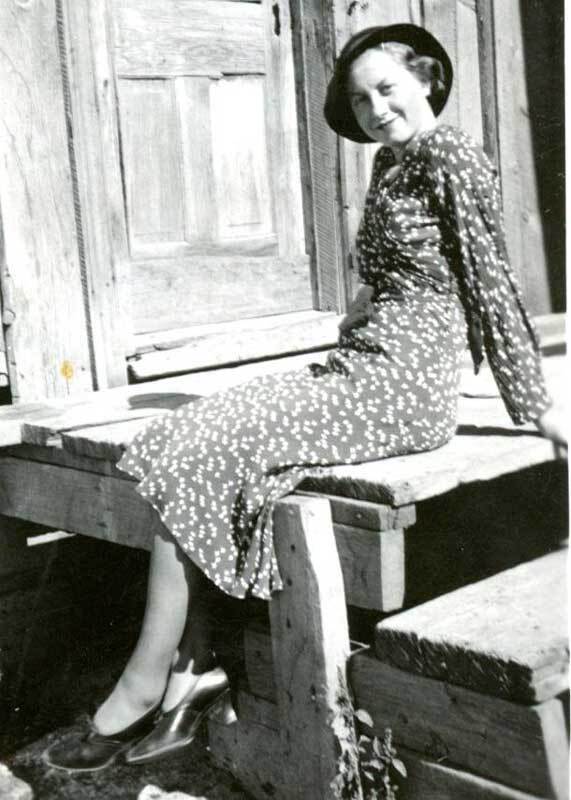 Housewives wore practical house dresses at home, often homemade from colorful printed cotton (including flour and feed sack fabric). A clever version was the "Hooverette" house dress, a reversible wrap style. Day dresses for wearing in public were more tailored and elegant, often made from silk or rayon crepe. Some women wore blouses with skirts.
Formal dresses most dramatically displayed the decade's willowy, elegant silhouette. Evening gowns in fluid fabrics were cut on the bias to create flowing, figure-hugging lines that reached the floor. Popular fabrics included satin, rayon, and chiffon.
Women's Trousers and Active Wear
Hollywood screen stars Katherine Hepburn and Marlene Dietrich helped introduce women's trousers for sports and leisure. These trousers were wide-legged and high-waisted, often styled like sailors' pants. Women wore baggier, casual lounge pants on vacation and at the beach. The modern swimsuit came of age during the 1930s, as lighter-weight, rubberized fabrics replaced heavier wool suits.
Women's Hairstyles and Accessories
In the 1930s, women copied the hairstyles and accessories they saw on popular, glamorous film stars. Short, curly styles dominated, such as the sleek Marcel wave (first popularized in the 1920s). Toward the end of the decade, the more classic 1940s medium-length "middy" style started coming into fashion.
Women often accessorized with inexpensive costume jewelry, gloves, silk scarves, and furs. Smaller hats were popular, such as berets, Greta Garbo-style slouch hats, or knit caps. Turbans topped fancier looks. Two-tone oxford shoes and strappy dress shoes with high, chunky heels were the shoes of choice. It was common to match accessories such as shoes, handbag, and hat.
1930s Fashion for Men
The male silhouette had wide, padded shoulders, a broad chest, defined waist, and straight legs. The overall trend was looser and a little more casual.
Men's Suits
Prince Edward, Duke of Windsor, was a famous 1930s fashion icon. He popularized the English drape suit, which became popular all over the world. In contrast to the rigid, militaristic cut of men's suits of his day, Edward wore jackets that were softer in the shoulder, with a vertical drape over a fuller chest. Other trendsetters included film stars Clark Gable and Gary Cooper.
Suits of the 1930s typically had high waists and slightly tapered, creased trousers with turned-up cuffs. Younger men preferred baggier trousers and longer jackets. Suits were darker blue, brown, or gray for cooler weather, with lighter tones for warm weather. Bold patterns included stripes, checks, and plaids.
A vest, pocket handkerchief, shorter tie, hat (such as a fedora or bowler), and dark or two-toned leather dress shoes completed the look.
Men's Work and Leisure Clothing
Daily wardrobes of laboring men paid little heed to fashion trends. They often wore bib overalls or coveralls of sturdy denim or duck cloth. Work shirts were loose-fitting and long-sleeved. Work uniforms often paired lighter-weight, colored shirts with matching trousers. Heavy leather work boots protected the feet.
Some men wore sports jackets for leisure; in the United States, men also wore them to work. Knitted sweaters, soft-collared shirts, and flannel trousers were also donned for sports and relaxation. Men typically wore one-piece wool swimsuits, but the 30s decade also saw the first men's swimming trunks.
What Did Children Wear in the 1930s?
Many children wore homemade clothing or items purchased from mail-order catalogs. During the Great Depression, mothers often remade children's clothing from other items, including flour and feed sacks. These items would have been unique and perhaps well-worn, but many were styled after prevailing trends.
The frilly dresses worn by young, popular film star Shirley Temple and Princesses Elizabeth and Margaret in the United Kingdom set the tone for girls' clothing. Embellished, puffy-sleeved dresses sported rounded Peter Pan collars. Hemlines were high for younger girls and dropped below the knee for older girls. Dark "Mary Jane" dress shoes topped ankle-high white socks.
Boys' trouser hemlines also dropped as they got older. Younger boys donned sailor suits or "buster suits," which paired shorts with long-sleeve, button-down shirts. Older boys wore trousers or flannel suits with button-down shirts and ties, sometimes with a knitted sweater or sweater vest.
Fashion in Your Family History
What did your relatives wear in the 1930s? Look for photos of them in the free, crowdsourced collections of FamilySearch Memories. Or upload your own family photos to share memories of your loved ones—and of what they wore.
Related Articles