Spain in the American Revolution
Jump to navigation
Jump to search
United States
U.S. Military
Revolutionary War


King Carlos III supported the American Revolution, partly because of an alliance with France, ruled by his nephew Louis XIV, and partly to oppose Protestant Britain and partly to recover Florida and other territory lost to Britain. However, Spain also had treaties with Portugal, an ally of Britain, and they did not want the many Spanish American colonies to consider revolting. Therefore, Spanish help to the thirteen colonies was largely secret.
Spain Declares War against Britain
[
edit
|
edit source
]
At that time Spain owned Louisiana and controlled New Orleans. On June 21, 1779 Spain officially declared war on Britain. Prior to this declaration Bernardo de Galvez, the governor of Louisiana and Cuba, took measures against British smuggling, and before this declaration Galvez worked with American agents shipping gunpowder, muskets, uniforms, medicine and other supplies. They sent blankets to Valley Forge.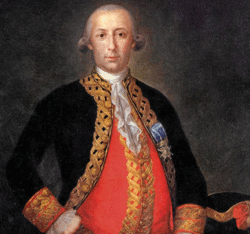 Galvez Removed British Forces from the Mississippi
[
edit
|
edit source
]

Galvez fought British forces in Louisiana and captured Baton Rouge September 21, 1779 freeing the lower Mississippi Valley of British forces. Thus Britain had no access to the Mississippi River. Keeping Britain out of the American West was hugely helpful.

Canary Islanders Recruited for Louisiana
[
edit
|
edit source
]
Spain recruited a Louisiana Infantry Regiment from the Canary Islands. Recruits' minimum service was 8 years, and they preferred married men with families so they would become colonists in the area. The recruiters were paid by enlistee, and they got more money for taller men, so obviously they looked for big guys. There's a book in English about The Canary Islanders of Louisiana [1]that has names of recruits, their wives and children and some ages of the children.
Donations Requested from Spanish America
[
edit
|
edit source
]
In 1780 King Carlos sent an official request to Spanish America, asking that they donate to the American colonial cause. He asked for 2 pesos per Spanish citizen and one peso per Indian. There are some rare books with lists of those people who gave "donativos." For example, there is New Mexico's Contribution to the American Revolution[2].
Loans were also made. For example, Havana residents donated to De Grasse's expedition to Yorktown in 1781. Mexico later repaid this money with interest. [3]
Louisiana Regiment Captured Mobile and Pensacola
[
edit
|
edit source
]
Cuba was a major trade center for our Revolution. They helped supply the colonies. For a day in February 1781, all the bakers in Havana were required to bake hard tack – the Louisiana Regiment was going to need it.
Bernardo de Galvez led the Louisiana Infantry Regiment into British eastern Florida and captured Mobile and Pensacola. The Battle of Pensacola won on May 10, 1781 lasted three days – the longest battle of our Revolution.
Texas ranchers donated cattle and horses to feed and supply the Louisiana Regiment. Ranchers donated, and cattle drivers and inspectors brought the food and mounts to the soldiers. There's a book about the Texas Connection to the American Revolution.[4].