Kentucky, United States Genealogy
Jump to navigation
Jump to search
United States Genealogy
Kentucky
Kentucky Wiki Topics
Beginning Research
Record Types
Kentucky Background
Cultural Groups
Local Research Resources
Moderator
Guide to Kentucky ancestry, family history, and genealogy birth records, marriage records, death records, census records, family history, and military records.
Kentucky became the twenty-second state admitted to the United States on June 1, 1792. Kentucky was created from part of Virginia and is located in the east south-central region of the United States.[1]
Getting Started with Kentucky Research

Links to articles on getting started with Kentucky research.

Kentucky Research Tools

Links to articles and websites that assist in Kentucky research.
Many genealogy records are kept on the county level in the United States. Click on a county below to go to the county Wiki article listing more information.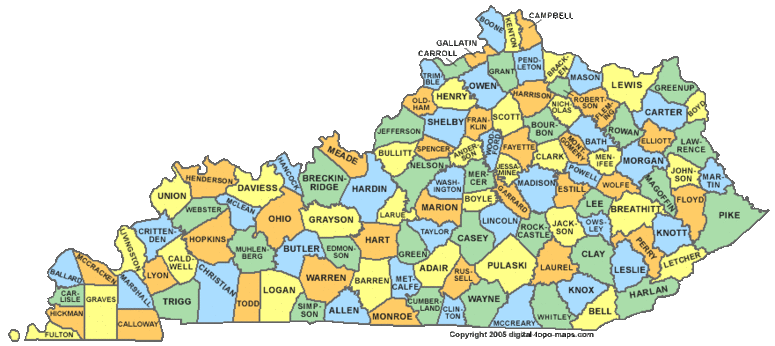 Extinct Counties:  Beckham | Fincastle | Josh Bell | Kentucky
Below are FamilySearch resources that can assist you in resourcing your family.


KYGenWeb Project has adopted Kentucky and its counties. You are invited to contribute to any KY pages to help us make a better Wiki.

Filson Historical Society Newsmagazine
Kentucky was formed in 1792. Many of its earliest settlers came down the Ohio River from Pennsylvania or through the Cumberland Gap from Virginia and North Carolina.
Private genealogy list for Kentucky, sorted and alphabetized by subject
Kentucky Pioneers blog of name lists in wills, genealogies, estates, Bible records, and gedcom files; enticing you to buy transcript books.
David Rumsey Map Collection is a large online collection of rare, old, antique historical atlases, globes, maps, charts plus other cartographic treasures.

70,000 walked/rode horseback on the Wilderness Road to KY before 1796
County marriages are the earliest and most complete vital record for KY
KY/TN border was disputed to 1859 - some did not know where they lived - look for family land records in both[1]
Some early KY records are in Virginia
Kentucky was a "state-land" state, meaning the state government appropriated all land within its borders. Land was surveyed in odd-sized lots in much of the state, but west of the Tennessee River it was surveyed in townships. Several types of land grants were issued in Kentucky. Warrants authorizing surveys of the desired land were issued to persons qualified to receive grants for military service (military warrants) or cash payments (treasury warrants). Read more about land and property records in the Kentucky Land and Property article.
The following databases are available online at the Kentucky Land Office website:
Virginia Patent Series and Old Kentucky Patent Series.
Revolutionary War Warrants database.
West of Tennessee River Military Patents database
Certificates of Settlement and Preemption Warrants database.
Virginia Treasury Warrants Register,
Lincoln Entries database.
County Court Order Patents database.
Jackson Purchase database.
West of Tennessee River Non-Military Patents Database.
The most prominent early Indian tribes in Kentucky were the Cherokee, Chickasaws, and Shawnee. Most of these tribes were eliminated from Kentucky by about the early 1800s either through warfare or resettlement to other territories by the federal government. No separate records were kept for people with American Indian blood.
Did you know you can find your infamous Kentucky ancestors at Kentucky Blacksheep Ancestors?
↑
Alice Eichholz, ed., Redbook: American State, County, and Town Sources, 3rd ed. (Provo, Utah: Ancestry, 2004), 239. (FHL Book 973 D27rb). [WorldCat entry].