Wisconsin, United States Genealogy
Jump to navigation
Jump to search
Wisconsin Wiki Topics
Beginning Research
Record Types
Wisconsin Background
Cultural Groups
Local Research Resources
Guide to Wisconsin ancestry, family history, and genealogy birth records, marriage records, death records, census records, family history, and military records.
Wisconsin is a state in the middle northern part of the United States. It is divided into 72 counties and it's capital is Madison. Wisconsin was admitted to the Union as the 30th state on 29 May 1848. It was created from Wisconsin Territory. [1]
Getting Started with Wisconsin Research

Links to articles on getting started with Wisconsin research.

Wisconsin Research Tools

Links to articles and websites that assist in Wisconsin research.
Many genealogy records are kept on the county level in the United States. Click on a county below to go to the county Wiki article listing more information.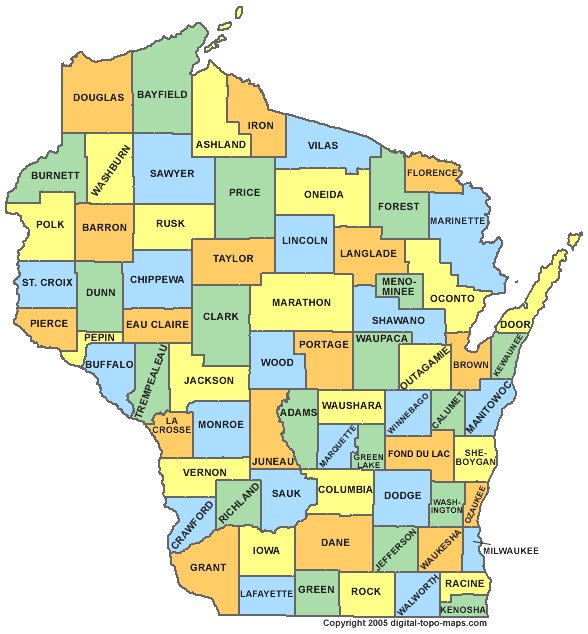 In Wisconsin vital records the county name often is written as a four-letter abbreviation that may resemble another place name: Adam, Fond, Lacr, Winn, Wood, etc.

Extinct or Renamed Counties:
Wisconsin Migration Routes
[
edit
|
edit source
]
Chippewa River · Lake Michigan · Lake Superior · Menominee River · Mississippi River · St. Croix River · Wisconsin River · Pecatonica Trail · Great Northern Railway (U.S.)
Below are FamilySearch resources that can assist you in researching your family.

Cyndi's List - Wisconsin genealogy sites on the internet
Wisconsin Genealogy Trails - Collection of transcribed data for the state of Wisconsin
Access Genealogy – Genealogy guide for Wisconsin
The Ancestor Hunt - Resources for Wisconsin genealogy research
Random Acts of Genealogical Kindness - Guide to Ancestry and Family Tree Records for Wisconsin
Wisconsin Research Outline – Original Family History Library research outline; contains many out of date links
Wisconsin County Histories at Wisconsin Historical Society website
[www.rootsweb.ancestry.com/~wibiog/ Wisconsin Biography Project]
The United States Vessel Enrollments for the Great Lakes region. The transcriptions are from a project that involved an attempt to transcribe all steamboat enrollments for Great Lakes ports prior to 1861, all vessels for Detroit and Cleveland up to 1861, and Buffalo up to 1841 are included in the file. The set includes 5741 enrollments in which just under 2000 individual vessels are named, over 6000 people were identified.