Kosovo Genealogy
Jump to navigation
Jump to search
Guide to Kosovo ancestry, family history and genealogy: birth records, marriage records, death records, census records, family history, and military records.
Kosovo Wiki Topics

Beginning Research
Record Types
Kosovo Background
Local Research Resources
Kosovo is a disputed territory and partially recognised state in Europe bordered by Serbia, Macedonia, Albania, and Montenegro. It was formerly part of the Ottoman Empire. The official languages are Albanian and Serbian.[1]
Getting Started with Kosovo Research

Links to articles on getting started with Kosovo research.

Kosovo Research Tools

Links to articles and websites that assist in Kosovo research.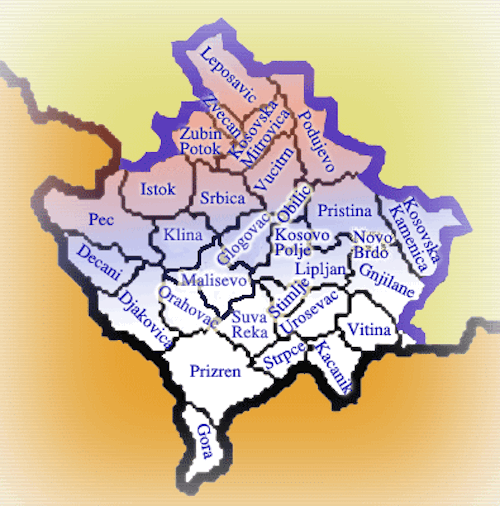 Kosovo is divided into 38 municipalities. The first name is Albanian, and the second one is Serbian.
Deçan / Dečani
Dragash / Dragaš
Drenas / Glogovac
Ferizaj / Uroševac
Fushë Kosovë / Kosovo Polje*
Gjakova / Đakovica
Gjilan / Gnjilane
Gracanicë / Gračanica
Hani i Elezit / Elez Han
Istog / Istok
Junik / Junik
Kaçanik / Kačanik
Kamenicë / Kosovska Kamenica
Klinë / Klina
Kllokot / Klokot-Vrbovac*
Leposaviq / Leposavić
Lipjan / Lipljan
Malishevë / Mališevo
Mamush / Mamuša
Mitrovicë Veriore / Severna Mitrovica*
Mitrovicë / Kosovska Mitrovica
Novobërdë / Novo Brdo*
Obiliç / Obilić
Rahovec / Orahovac
Partesh / Parteš*
Pejë / Peć
Podujevë / Podujevo
Prishtinë / Priština
Prizren / Prizren
Ranillug / Ranilug*
Skënderaj / Srbica
Shtërpcë / Štrpce*
Shtime / Štimlje
Suharekë / Suva Reka
Viti / Vitina
Vushtrri / Vučitrn
Zubin Potok / Zubin Potok*
Zveçan / Zvečan*
Below are FamilySearch resources that can assist you in researching your family.