Kiribati Genealogy
Jump to navigation
Jump to search
Guide to Kiribati ancestry, family history, and genealogy: birth records, marriage records, death records, census records, parish registers, and military records.
Kiribati is an island country in the Pacific Ocean. Some of the islands were formerly under the rule of Great Britain, Japan, and the United States. The official languages are Kiribati and English.[1]
Getting Started with Kiribati Research

Links to articles on getting started with Kiribati research.

Kiribati Research Tools

Links to articles and websites that assist in Kiribati research.
Genealogy records are kept on the local level in Kiribati.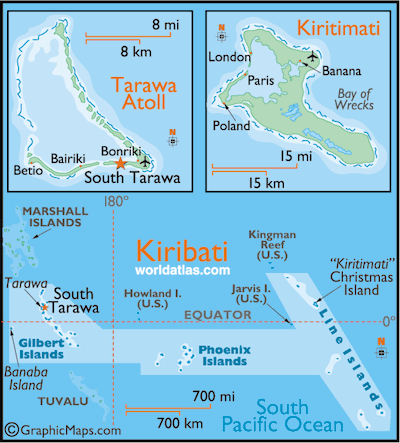 Kiribati consists of about 32 atolls and one island, Banaba. The groups of islands being:
Banaba (or Ocean Island): an isolated volcanic island between Nauru and the Gilbert Islands
Gilbert Islands: made up of 16 atolls located some 930 miles (1,500 km) north of Fiji.
Line Islands: made up of 8 atolls and one reef, located about 2,050 miles (3,300 km) east of the Gilbert Islands. These include Kirisimati, or Christmas Island, which is the largest coral atoll.
Phoenix Islands: made up of 8 atolls and coral islands located some 1,100 miles (1,800 km) south-east of the Gilbert Islands.
Below are FamilySearch resources that can assist you in researching your family.