Colorado, United States Genealogy
Jump to navigation
Jump to search
Colorado Wiki Topics
Beginning Research
Record Types
Colorado Background
Cultural Groups
Local Research Resources
Guide to Colorado ancestry, family history, and genealogy birth records, marriage records, death records, census records, family history, and military records. This article is about the state. For other uses, see Colorado (disambiguation).
Colorado became the thirty-eighth state admitted to the Union in August 1, 1876. Colorado was created from Colorado Territory and is located in the western region of the United States.[1] The capital is Denver and there are 64 counties
Getting Started with Colorado Research

Links to articles on getting started with Colorado research.

Colorado Research Tools

Links to articles and websites that assist in Colorado research.

Geographical Names Information System - U.S. gazetteer of places, cemeteries and post offices in Colorado.
Colorado's Historical Assets: A Research Guide for Genealogists, Local Historians and History Buffs Containing a Treasure Trove of Museums, Ghost Towns, Courthouses, Historic Homes and Hotels, along with the Libraries and Archives Holding Colorado's History
Many genealogy records are kept on the county level in the United States. Click on a county below to go to the county Wiki article listing more information.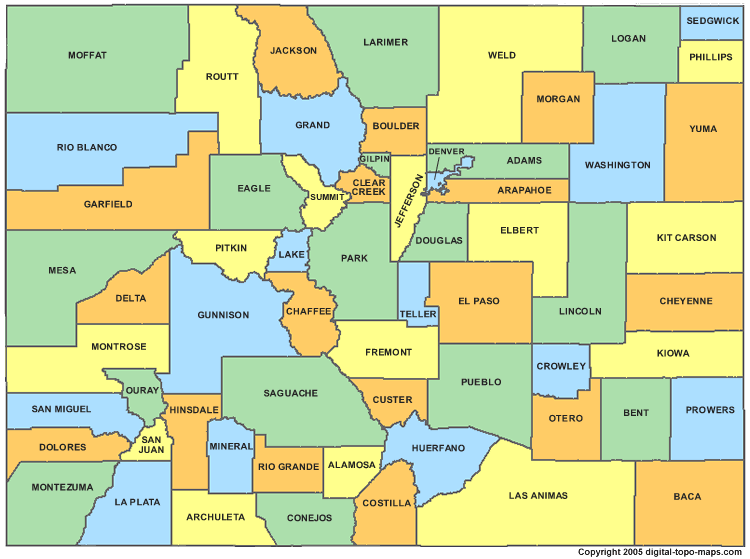 Extinct or Renamed Counties: Arapahoe (KS) | Broderick (KS) | Carbonate | El Paso (KS) | Fremont (KS) | Greenwood | Guadalupe | Montana (KS) | Mora (NM) | North Park | Oro (KS) | Peketon (KS) | Taos (NM) | Uncompahgre | Washington (KS old)
Below are FamilySearch resources that can assist you in researching your family.

Colorado's Territorial Masons: An Annotated Index of the Proceedings of the Grand Lodge of Colorado, 1861–1876
Inventors in the Colorado Territory and their U.S. Patents, 1861-1876: An Annotated Index
Cyndi's List - Colorado genealogy sites on the internet
Colorado Genealogy Trails - Collection of transcribed data for the state of Colorado
Access Genealogy – Genealogy guide for Colorado
The Ancestor Hunt - Resources for Colorado genealogy research
Random Acts of Genealogical Kindness - Guide to Ancestry and Family Tree Records for Colorado
Colorado Research Outline – Original Family History Library research outline; contains many out of date links