Cedar Falls/Waterloo Iowa Family History Center
Jump to navigation
Jump to search
Cedar Falls/Waterloo Iowa Family History Center
The Cedar Falls/Waterloo Family History Center is located in The Church of Jesus Christ of Latter-day Saints meeting house in Cedar Falls, IA and serves the local surrounding communities in their quests to locate their ancestors. We have friendly staff members and many utilities waiting to help you with your search. Please feel free to visit us during our hours listed below.
FHC North entrance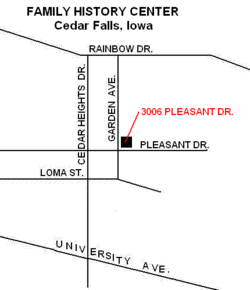 Location Map: Location Map
Address: 3008 Pleasant Dr Cedar Falls IA 50613
(mail not accepted at this address) For easiest access to the Family History Center, park in the north parking lot of the Church building, which is accessed from Garden Ave. Enter at the Northwest door and proceed to the end of the hallway. Don't be shy, just come on in. All visitors are always welcome!
Language: English
Phone: 319-266-6374
E-mail: ia_cedarfallswaterloo@familyhistorymail.org
Open Hours:
Tuesday: 10:00am-2:00pm
Wednesday: 10:00am-2:00pm and 6:00pm-9:00pm
Holiday Schedule:
Closed 1st weekend in Apr/Oct for General Conference.
2017: Closed the week of Thanksgiving, closed the last week of December.

Exception: If local public schools close due to weather conditions on a day the center is to be open, then the center will be closed too. "Local Closings/Cancelations - Website ->" [1]
Family Search CLASSES
Handout - New Tools For Finding Your Missing Cousins (Renee Zamora) Link to class modules - Family History Center, Riverton, UT
Indefinite Film Collection -- a collection of films on a variety of subjects, to include vital records, county records, court records, etc.
Book Collection: -- This center also has many books that may be useful.
FHC Portal This center has access to the Family History Center Portal page which gives free access in the center to premium family history software and websites that generally charge for subscriptions.
19th Century British Library Newspaper Digital Archive - contains full runs of 48 newspapers specially selected by the British Library to best represent nineteenth century Britain. These support the study of colonial history, genealogical research, politics, urban studies, and media courses.
Alexander Street Press - Research Data: Contains indexed, searchable information on over 4 million soldiers and thousands of battles, together with 15,000 photographs. Letters and Diaries: Contains approximately 100,000 indexed pages of diaries, letters, and memoirs, including 4,000 pages of previously unpublished manuscripts, such as the letters of Amos Wood and his wife and the diary of Maryland planter William Claytor.. The American Civil War: Research Database Letters and Diaries Images, Photographs, Posters, and Ephemera.
American Ancestors - To advance the study of family history in America and beyond.It provides family historians access to more than 1 billion records spanning the U.S. and beyond, including one of the most extensive online collections of early American records, and the largest searchable collection of published genealogical research journals and magazines. Special strengths in our content include English, New England (Connecticut, Maine, Massachusetts, New Hampshire, Rhode Island, and Vermont), New York, Pennsylvania, and Virginia materials.
Ancestry.com -- Ancestry gives you access to thousands of collections of records from around the world, including immigration, census, voter, vital, and military records; newspapers and periodicals; family trees; photos and images; directories, maps, court, land, wills and financial records, stories, memories, and histories; and detailed records about births, marriages, deaths, land ownership, and much more. It is the largest for-profit genealogy company in the world. All family history centers have access to Ancestry.com Library. This site has 10+ billion records. U. S. federal and state census records, vital records, passenger lists, Canadian census, church, and vital records, UK census records, birth, marriage and death indexes, and other international records.
ArkivDigital Online -- Swedish genealogy. ArkivDigital is the largest private provider of Swedish Church Records and other historical records online! All images are newly photographed color images of the original documents. Launch from the 'ArkivDigital Online' Start Menu or Desktop icon from a computer where the program has been installed.
Find My Past -- 1.7 billion international family history records from the U.S., Canada, UK, Australia, New Zealand and beyond with records going back to 1200. findmypast makes it easy to research your UK ancestry and create your family tree. Search census records and trace births, marriages, and deaths to bring your family history to life.1911 British Census (accessed through the Find My Past website)–The 1911 UK Census is a record of everyone who lived in England and Wales in 1911. It provides a unique snapshot of the lives of those who lived at that time. New collections are added every month.
Fold3.com (Previously known as Footnote.com) -- Search or browse millions of historical documents and photos. Fold3 has refocused their efforts on gathering the best online collection of military records and stories. The Fold3 name reflects military history and honor, since traditionally, the third fold in a flag-folding ceremony honors and remembers veterans for their sacrifice in defending their country and promoting peace in the world. See Using Fold3 at a Family History Center for more information.
Geneanet -Geneanet offers every kind of genealogy record published by researchers, genealogy societies, commercial companies, etc. Geneanet is the first site dedicated to genealogy in France, Belgium, the Netherlands, Sweden, and Germany. The Geneanet community has two million members who exchange genealogical information.
Kinpoint - Kinpoint is designed to make it easier for you to do your family history by letting you see what to work on at a glance; quickly find missing information in your family tree; and discover insights into the lives of your ancestors. Simplified
MyHeritage - Used by millions of people worldwide to help research family history, build a family tree, and add photos, historical records, and more.
Newspaper Archive - the largest historical newspaper database online, contains tens of millions of newspaper pages from 1753 to present. Every newspaper in the archive is fully searchable by keyword and date, making it easy for you to quickly explore historical content. All 50 states plus 10 countries.
Paper Trail - Provides access to 19th-century westward American migration documents.
ProQuest Obituary Listings - The ProQuest obituaries collection is a premier resource for genealogical and historical research. You can use the collection to search obituaries and death notices from prominent newspapers, such as the New York Times (dating back to 1851). The collection includes both famous and lesser-known individuals and can be searched by name or by keywords appearing in the body of the article.
Puzzilla - Find new research opportunities on descendant lines in FamilyTree
Hardware and Equipment at the Family History Center
[
edit
|
edit source
]
7 Windows computers, 2 laser printers (1 with scanner), 1 Microfilm/fiche Printer/imager, 3 Microfilm readers, 2 Microfiche readers.
Staff Research Specialists
[
edit
|
edit source
]
French - Jeanne St. Christian - Wednesday Evenings
British - William Sharpe - Wednesday Evenings
Translate Historical German (old and new script) Documents - Ute Brandenburg

Workbook / Spreadsheet -
Using Google search against a genealogy web site - How to work with the document
Using Google search against a genealogy web site - the document
Useful Links:
FamilySearch Research Wiki: What It Can Do For You!: A comprehensive video presentation explaining the Wiki, navigating it, and some especially useful pages. Case studies demonstrate using the Wiki for genealogical research. Editing and adding articles to the Wiki are covered.
Blackhawk County Genealogical Web IaGenWeb
Blackhawk County GenWeb Obituary Collection IaGenWeb Bremer Co. Genealogical Society IaGenWeb
The Northeast Iowa Genealogical Society Cedar Falls, Iowa Historical Society Blackhawk Historical Tour www.cedarnet.org State Historical Society of Iowa
Ostfriesen Heritage Society, Wellsburg Public Library, 411 N. Adams Street, Wellsburg, IA 50680 Phone: (641) 869-5234. The library is closed on Sunday and Monday. karen@wellsburg.lib.ia.us
State Historical Society of Iowa Collections Catalog 
Choose "Research Center Catalog" at https://iowaculture.gov/history/research 
(describes and gives locations for books, periodicals, manuscripts, newspapers, etc.) 
For online finding aids for Special Collections, State Archives, Digital Resources and more, see: 
https://iowaculture.gov/history/research/collections 
Annals of Iowa http://ir.uiowa.edu/annals-of-iowa (issues from 1863 to present, some gaps in publication) 
Goldfinch: Iowa History for Young People http://ir.uiowa.edu/goldfinch 
(magazine designed for ages 8 to 13) 
Iowa Digital Newspaper Project-Chronicling America https://chroniclingamerica.loc.gov/ 
https://iowaculture.gov/history/research/collections/newspapers/iowa-digital-newspaper-project 
Iowa Labor Collection (Iowa Labor History Oral Project)
Under "Topics in Iowa History" at 
https://iowaculture.gov/history/research/collections/digital-resources (includes list of people interviewed) 
Iowa History and Culture Bibliography online from Drake University, Des Moines: 
https://library.drake.edu/iowa-history-and-culture/
(resources published after 1986) 
Iowa History and Culture: A Bibliography Materials Published between 1952 and 1986 by Patricia Dawson and David Hudson,
State Historical Society of Iowa in association with Iowa State University Press, 1989 
Iowa in the Post A Bibliography Materials Published Before 1952 
compiled by David Hudson, 2001, unpublished, copies at SHSI and Iowa State University library 
"Planning to Visit an Archives," from Using Archives: A Guide to Effective Research ' 
www2.archivists.org/usingarchives 
(also includes useful pages on "Finding and Evaluating Archives," "Typical Usage Guidelines in Archival Repositories," etc.) 
See the SHSI page on visiting our Research Centers at: https://iowaculture.gov/history/research/research-centers/visit 
April 2018
The remainder of this page is UNDER CONSTRUCTION. Please be patient with us as we continue to remodel.
==== Class Schedule ====
Other Resources in our Local Area:

[

edit

|

edit source

]
Looking for more time to spend on your own family history as well as the opportunity to share what you know in assisting others? Join our volunteer staff! We have 3 shifts each week. They are:
Tuesdays from 10:00AM - 2:00PM, Wednesdays from 10:00AM - 2:00PM, and 6:00 - 9:00 PM. Email - IA_CedarFallsWaterloo@familyhistorymail.org the center if you are interested.