Canada Jewish Records
Jump to navigation
Jump to search
Jewish Records of synagogues may be found at the synagogue itself, or it could be that the records were viewed as belonging personally to the rabbi and hence left with him when he went to a new posting. You may find birth records, bat-mitzvah and bar-mitzvah records, other services performed by the rabbi, which will include burials and weddings, tombstone dedications and records of memorial services.[1] In brief, if the rabbi was to conduct the service, he may have kept a record. There may also be mohel records which record circumcisions.
As well as strictly religious synagogue records, there are a vast array of other materials which record Jewish life and which can be used by researchers. These cannot be viewed as religious records as they are more social or business in nature, but they should not be neglected. Shem tov, the newsletter of the Jewish Genealogical Society of Canada (Toronto), is a good source, and the JGSC also holds educational workshops.
A great many biographical sources exist for Jewish organisations, such as the Canadian Jewish Year Book. There are also published genealogies in books such as Family Who's Who (v. 1, 1969), published by the Hebrew University of Jerusalem and including family histories of contributors to the endowment fund; volumes 1 and 2 are Canadian.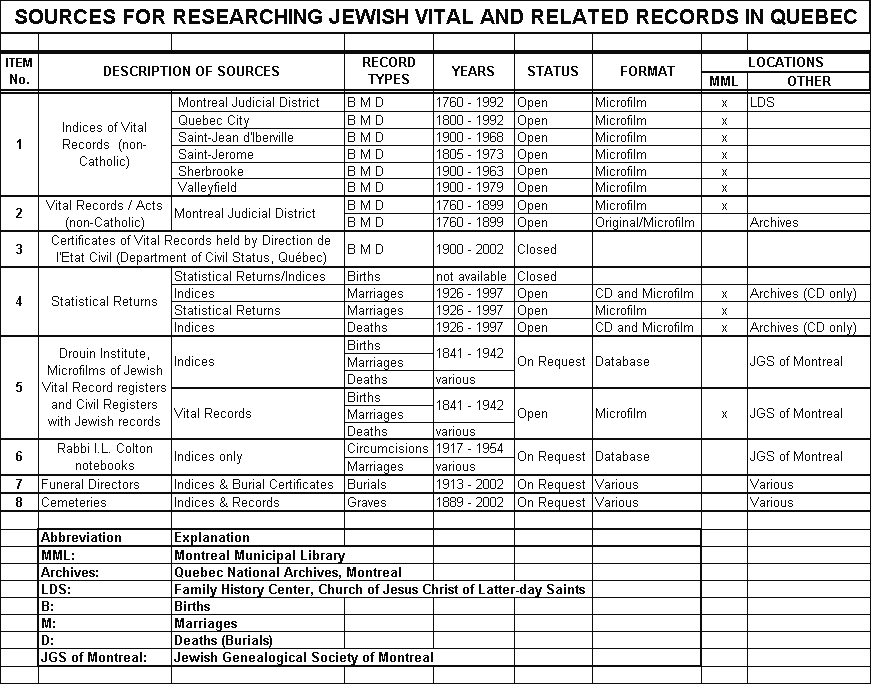 ↑

Many synagogues have annual memorials on Yom Kippur which may include a programme listing death anniversaries for the year (for mourning purposes); some print these programmes annually.

↑ Merriman, Brenda Dougall. "Canadian Denominational Background Disciples Church of God, Brethren, Tunkers, Moravians, Irvingites, Plymouth Brethren, Adventists, Jewish, The United Church of Canada Archives (National Institute)," National Institute for Genealogical Studies (2012)