Additional Canada Land Records Resources (National Institute)
Jump to navigation
Jump to search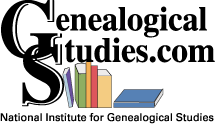 The original content for this article was contributed by The National Institute for Genealogical Studies in June 2012. It is an excerpt from their course Canadian: Land Records Course Part 1 and Part 2  by Sharon L. Murphy, Brenda Dougall Merriman, CG, and Frances Coe, PLCGS. The Institute offers over 200 comprehensive genealogy courses for a fee 

($)

.
 Archives of Ontario.Sources of Family History, Archives of Ontario Research Guide No. 299, updated March 2010.
 Great Britain Colonial Office Order-in-Council and Returns Respecting Sale of Lands in Upper Canada, 15 July 1837, Archives of Ontario, No. 244, Imperial Blue Books, Box 7.
 Regehr, Theodore D., "Land Ownership in Upper Canada 1783-1796: a Background to the First Table of Fees", Paper and Records [Ontario Historical Society], March 1963, vol. LV, no. 1, p. 35-48.
 Tyman, John Langton. By Section, Township and Range: Studies in Prairie Settlement (Brandon, Manitoba: Assiniboine Historical Society, 1972).
 Library and Archives Canada.Tracing your Ancestors in Canada (Ottawa, Ontario: 1997).
 Royick, Alexander. Ukrainian Settlements in Alberta (Edmonton: Douglas College Reference Library, 1972).
 Baxter, Angus. In Search of Your Canadian Roots: Tracing Your Family Tree in Canada, third edition (Toronto: MacMillan of Canada, 1999).
 Colombo, John Robert. Colombo's Canadian References (Toronto: Oxford University Press, 1976).
 Jonasson, Eric. The Canadian Genealogical Handbook, second edition (Winnipeg: Wheatfield Press, 1978).
 Little, William, Fowler, H.W., Coulson, J., Onions, C.T., The Shorter Oxford English Dictionary on Historical Principles, third edition (Oxford: Clarendon Press, 1992).
 Merriam, G. & C., The Merriam-Webster Dictionary (Simon & Schuster, Inc., 1974).
 Murphy, Sharon L., Researching Canadian Vital Statistics Records (Toronto: Heritage Productions, 2000).
 Punch, Terrence M. and George F. Sanborn, Jr., Genealogist's Handbook for Atlantic Canada Research (Boston: New England Historic Genealogical Society, 1997).
 Gray, James H., Boomtime: Peopling the Canadian Prairies. (Saskatoon, Saskachewan: Western Producer Prairie Books, 1979).
 Keywan, Zonia, Greater than Kings. (Montréal: Harvest House, 1977).
 Macoun, John, Manitoba and the Great North West. (Guelph, Ontario: World Publishing Company, 1882).
 Gates, Lillian Francis, Land Policies of Upper Canada. (Toronto: University of Toronto Press, 1968).
 Macaulay, Robert Walter, The Land Dispute in Norwich Township in the London District of Upper Canada 1811-1840. [Research Paper, Archives of Ontario reference 333.109 713 M32].
 MacDonald M.A. PhD., Norman, Canada, 1763-1841, Immigration and Settlement: The Administration of the Imperial Land Regulations.(Hamilton, Ontario: McMaster University, 1939).
 Merriman, Brenda Dougall, Genealogy in Ontario: Searching the Records. 4th edition (Toronto: Ontario Genealogical Society, 2008).

____________________________________________________________

Information in this Wiki page is excerpted from the online course Canadian: Land Records Course Part 1 and Part 2 offered by The National Institute for Genealogical Studies. To learn more about this course or other courses available from the Institute, see our website. We can be contacted at wiki@genealogicalstudies.com

We welcome updates and additions to this Wiki page.