Acadia Land Records (National Institute)
Jump to navigation
Jump to search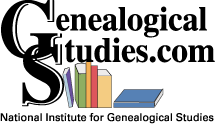 The original content for this article was contributed by The National Institute for Genealogical Studies in June 2012. It is an excerpt from their course Canadian: Land Records Course Part 1 and Part 2  by Sharon L. Murphy, Brenda Dougall Merriman, CG, and Frances Coe, PLCGS. The Institute offers over 200 comprehensive genealogy courses for a fee 

($)

.
The area that exists within the present boundaries of Nova Scotia, New Brunswick, Prince Edward Island and Maine was known as Acadia. In 1598 the French placed colonists on Sable Island and in 1604 an expedition spent the winter on Dochet Island, Maine.
This settlement was then moved to Port Royal in 1605 and for 100 years England and France fought for this territory until it was ceded to Britain in 1713 by the Treaty of Utrecht. It then became Nova Scotia. France retained Île-Royale (Cape Breton), Île-Saint-Jean (Prince Edward Island), and the area north of the Isthmus of Chignecto (New Brunswick) until the cession of New France to Great Britain in 1763.
Meanwhile, after 1713 the British in Nova Scotia considered the French-speaking population of Acadia to be a potential threat. The French-speaking Acadians would not take the oath of allegiance to the Crown. When the Seven Years War broke out they became even more threatening to the British. In 1755 and 1758 the French-speaking Acadians were expelled to Massachusetts, Virginia, France and Louisiana. After the war ended in 1763, many returned to their homes.
Knowing the history of the Maritime Provinces will provide you with a sense of where your ancestors may have disappeared, and help in your search for the records. Knowledge of the history and geography of your province of interest is the foundation you need to begin your genealogical quest. You will find the background for each province fits into the overall development path of Canada and the role your ancestors played in its establishment and growth.
To locate the whereabouts of the records that were created in 'Acadia', consult with the appropriate archives or government office of the present day province. Land grants can be found at the Archives des Colonies in Paris, France, as well as on microfilm at Library and Archives Canada.
____________________________________________________________

Information in this Wiki page is excerpted from the online course Canadian: Land Records Course Part 1 and Part 2 offered by The National Institute for Genealogical Studies. To learn more about this course or other courses available from the Institute, see our website. We can be contacted at wiki@genealogicalstudies.com

We welcome updates and additions to this Wiki page.