Vermont, United States Genealogy
Jump to navigation
Jump to search
Vermont Wiki Topics
Beginning Research
Record Types
Vermont Background
Cultural Groups
Local Research Resources
Guide to Vermont ancestry, family history, and genealogy birth records, marriage records, death records, census records, family history, and military records.
Vermont is a state in the northeast region of the United States. It is divided into 14 counties and it's capital is Montpelier. Vermont was admitted to the Union as the 14th state on 4 mar 1791. Vermont was created from the Province of New York, New Hampshire Grants and Vermont Republic. [1]
Getting Started with Vermont Research

Links to articles on getting started with Vermont research.

Vermont Research Tools

Links to articles and websites that assist in Vermont research.
Many genealogy records are kept on the county level in the United States. Click on a county below to go to the county Wiki article listing more information.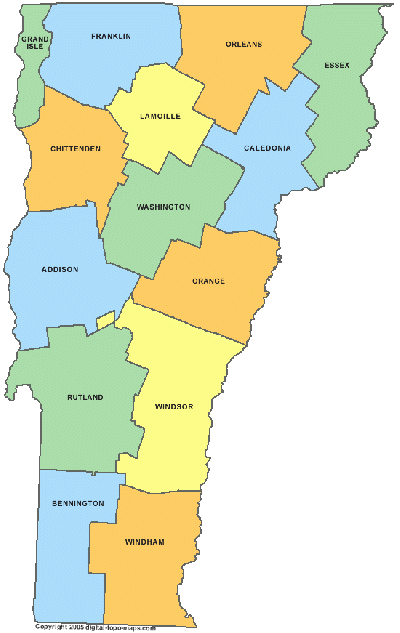 Extinct or Renamed Counties: Albany · Charlotte · Cumberland · Dominion of New England Genealogy · Gloucester · Jefferson · Massachusetts Bay Colony Genealogy · New Hampshire · New York · Washington (old)
Chambly Canal · Champlain Canal · Connecticut River · Erie Canal · Hudson River · Lake Champlain
Below are FamilySearch resources that can assist you in researching your family.