United States Census 1790
Jump to navigation
Jump to search
1790 Census was taken between 2 August 1790 and 1 May 1791. The following information, in addition to the name of the head of the household, was recorded by the census taker:
Free white males 16+
Free white males under 16
Free white females
Other free persons (including Indians who were taxed)
Slaves
Information on Federal census records 1790-2000 from the National Archives.
The 1790 census can be used to:
Identify locality
Distinguish target family from others of same name
Identify neighbors
Identify slaveholders
Identify name variations
1790-1840 Search Tips from the National Archives.
Unique Features and Problems
[
edit
|
edit source
]
First time a nation wide count was taken (population was 3,929,214)
No printed form or paper provided
The jurisdiction of the 13 original covered actually the area of 17 states.
Age brackets very limited, especially for the females.
Since the census went until 1792, some children may have been counted that were not actually born by August 1790
Only number of slaves accounted for, not ages.
Indians that were not taxed were not included.
States and Territories Covered
[
edit
|
edit source
]
States
States Covered
States Missing (most have substitutes)

Connecticut
Maine (part of Massachusetts)
Maryland
Massachusetts
New Hampshire
New York
North Carolina
Pennsylvania
Rhode Island
South Carolina
Vermont

Delaware
Georgia
Kentucky
New Jersey
Tennessee (part of Southwest Territory)
Virginia
Territories
(May have some type of substitute list or an area covering a county)
Northwest Territory
Southwest Territory
According to archives.org, No schedules are known to exist for Delaware, Georgia, Kentucky, New Jersey, Tennessee, and Virginia; apparently they were destroyed during the British attack on Washington during the War of 1812.

The 1790 Federal Census is available online.
Online
1790-2000 Information. This 4-page brochure discusses the availability of federal census records and their contents.
1790-1840 census Search Tips
"Census of Population and Housing, 1790 Census." U.S. Census Bureau. www.census.gov : accessed 22 May 2009. Over a hundred years ago the Bureau of the Census published the entire 1790 census, listing the names of all the heads of households. Each state was published in a separate book. This web page contains PDF images for each of these books. While the books are searchable, not every name has been indexed correctly. New Hampshire, Vermont, and Maryland were published in 1907, followed in 1908 by Connecticut, Maine, Massachusetts, New York, North Carolina, Pennsylvania, Rhode Island, and South Carolina. Since the census of Virginia for 1790 was lost when the federal district court clerks did not adequately maintain them, state enumerations made in 1782-5 were substituted, but are deemed incomplete. No substitute was provided for other states lost in the burning: Delaware, Georgia, Kentucky, New Jersey, and Tennessee.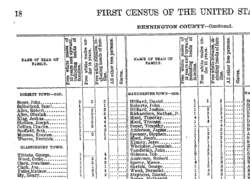 1. Szucs, Loretto Dennis and Sandra Hargreaves Luebking. The Source: A Guide book to American Genealogy. 3rd ed. (Provo, UT: Ancestry, 2006.)