Santa Fe Trail
Jump to navigation
Jump to search
The Santa Fe Trail was an overland international trade route, military road, and pioneer migration trail in central North America between the United States and Mexico from 1821 to 1880. The Santa Fe Trail went from Missouri through Kansas, Colorado, or sometimes Oklahoma to New Mexico.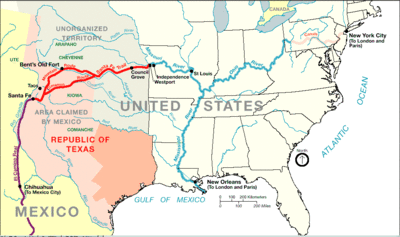 Shortly after Mexican independence from Spain in 1821, William Bicknell, a merchant-trader opened the Santa Fe Trail as a lucrative trade route from Franklin, Missouri to Santa Fe, New Mexico. During most of its history, the trail was used to carry pack-trains or wagon loads of trade goods between Missouri and New Mexico. In 1846 at the start of the Mexican War the United States Army used the Santa Fe Trail to invade and later supply New Mexico. At the end of the war Mexico ceded territory that would become California, Nevada, Utah, Colorado, Arizona, and New Mexico to the United States. Some American forty-niners used the Santa Fe Trail on the way to the California goldfields. Before long, ox teams pulling wagons began to carry more and more pioneers from the expanding United States into New Mexico and the western states. Eventually, in 1880, the old wagon trail was replaced by the Atchison, Topeka, and Santa Fe Railway which roughly followed the Santa Fe Trail Mountain Route from Kansas City into Colorado and New Mexico.[1]
Part of the reason the Santa Fe Trail was a success was that it linked the United States to two other significant trade routes, the Camino Real, and the Old Spanish Trail, all forming a hub in Santa Fe. Since 1598 the Camino Real had been used to carry settlers and goods from Mexico City and Chihuahua to Santa Fe.[2] When the Santa Fe Trail opened these Mexican goods could be traded for goods from the United States. In 1829-1830 the Old Spanish Trail also was opened connecting Los Angeles to Santa Fe making even more merchandise available for trade.[3]
Settlers followed trails because forests, mountains, rivers, lakes, or deserts blocked other routes. If an ancestor settled near a trail, you may be able to trace their place of origin back to another place along the trail.
During much of its early history, the only permanent white settlement on the Santa Fe Trail was Bent's Old Fort in Colorado. Many of the following places were built later in trail history, or after the coming of the nearby Santa Fe Railway. From east to west some of the more prominent places along or near the Santa Fe Trail included:
Franklin, Missouri
Independence, Missouri
Council Grove, Kansas
Fort Larned, Kansas
Fort Dodge (Dodge City), Kansas
Lakin, Kansas
Cimarron Route (60 miles shorter but drier and less-dependable water and forage for livestock)
Boise, Oklahoma
Clayton, New Mexico
Mountain Route (60 miles longer but wetter and more-dependable water and forage for livestock)
Trails rejoin near:
Fort Union, New Mexico
Las Vegas, New Mexico
Santa Fe, New Mexico
American pioneer settlers who followed the Santa Fe Trail to Colorado, or northern New Mexico would appear in land records, censuses, and possibly county histories. Few appear in lists as the earliest settlers because the Spanish speaking pioneers from old Mexico via the Camino Real de Tierra Adentro preceded them by many years.
American settlers who traveled the Santa Fe Trail most likely would have come from Kansas, Missouri, Iowa, Arkansas,Illinois, Kentucky, or Tennessee.