Ontario Land Registry Records and Offices (National Institute)
Jump to navigation
Jump to search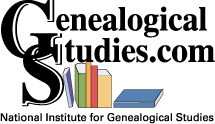 The original content for this article was contributed by The National Institute for Genealogical Studies in June 2012. It is an excerpt from their course Canadian: Land Records Course Part 1 and Part 2  by Sharon L. Murphy, Brenda Dougall Merriman, CG, and Frances Coe, PLCGS. The Institute offers over 200 comprehensive genealogy courses for a fee 

($)

.
The Registry system and the Land Titles system differ in that the former is a registry of documents and the latter is a register of titles. The Registry System is governed by the Registry Act which was one of the first statutes passed by the Legislature of Ontario. It provided that all dealings with land be registered in order to provide notice of their registration to the public. Unregistered interests have no effect against registered ones.
The Land Titles Act was originally enacted in 1885. All unpatented lands in northern Ontario came under the Act and each of the districts has a Land Registry Office under both the Registry Act and the Land Titles Act.
The registered documents are evidence supporting the titles. This has much improved the previous system of searching a chain of ownership for 40 years in order to register a change in ownership or title. Now, the latest document registered is proof of title and no historic type search is required. You will come cross these terms and should be aware of the differences.
Each county had its own Land Registry Office and most were one of the first buildings constructed in the county. This was the place where each transaction made on a property was recorded. Such things as mortgages, mortgage discharges, wills, purchases, some marriage registers, debentures for schools, cemetery board startups, organizational bylaws, almost everything that was of any importance to the individual and community was registered or deposited in the Land Registry Offices in Ontario.
Abstract Index Book and Deeds
[
edit
|
edit source
]
All dealings with the land subsequent to the Crown patent are recorded in the Abstract Book in the order of their registration. These books contains a page for each piece of property that had been surveyed. As the property changed hands, was mortgaged, had the mortgage paid off, or was part of an estate in a will, etc., it was recorded on its own page in the order that the events took place. Line after line tells the story of the individual piece of land. In order to get all the details of the transactions one must retrieve a deed or document by noting the instrument number shown beside the entry and requesting the document. This document can then be studied and the contents read. The full names of all those with an interest in the land, buyer and seller alike, as well as the amount of the sale price and any other stipulations are some of the things shown on the actual "Bargain and Sale" as well as other pertinent information.
Original documents on deposit have all been microfilmed and can be accessed at the appropriate Land Registry Office. Some of the original documents or old copy books have been sent to the Archives of Ontario for safe keeping and some have been distributed to other local archives and associations that have pledged their trust to care and maintain them.
You can see the microfilmed copies at the Registry Office for your particular county of interest. (You can also photocopy any that you may wish to own and I would strongly suggest you do so. This way, you will always have a copy to refer back to at a later date if any question should arise.)
There were additional Abstract Books created with the incorporation of towns to handle the lands within the town boundaries. As subdivisions started, a plan was registered to show the division of the land into lots, and a book was started with a page for each lot in the plan.
Prior to the subdivision of lands, the abstract books are referred to as concessions books and after subdivision, plan books. Searching in the concession book is commonly referred to as "going behind the plan."
At the top of each page the lot and plan number or the concession and lot number are recorded. Instruments ruled out in red (or black if you are looking at microfilm) indicate that a mortgage has been discharged. There is usually a number and date and initial beside the lined out entry to indicate when this occurred. If you find this ruled out entry you will not be able to obtain the document involved as it no longer is required to be in the registry office.
The abstract books have been microfilmed for nearly every township in nineteenth century Ontario, and copy books of deeds up to the mid-1870s; they are in the RG 61 collection of the Archives of Ontario. Some of these are also available at county archives. Ask at your local Land Registry Office.
Ontario Land Registry Offices
[
edit
|
edit source
]
Land Registry Offices A - D
[
edit
|
edit source
]
ALGOMA Land Registry Office (Bilingual)
420 Queen Street East
Sault Ste. Marie, Ontario P6A 1Z7
Telephone: 705-253-8887

BRANT Land Registry Office
Court House
80 Wellington Street
Brantford, Ontario N3T 2L9
Telephone: 519-752-8321

BRUCE Land Registry Office
203 Cayley Street
P.O. Box 1690
Walkerton, Ontario N0G 2V0
Telephone: 519-881-2259

COCHRANE Land Registry Office
149 - 4th Avenue (Court House)
P.O. Box 580
Cochrane, Ontario P0L 1C0
Telephone: 705-272-5791

DUFFERIN Land Registry Office
41 Broadway Ave., Unit 7
Orangeville, Ontario L9W 1J7
Telephone: 519-941-1481

DUNDAS Land Registry Office
8 - 5th Street West
P.O. Box 645
Morrisburg, Ontario K0C 1X0
Telephone: 613-543-2583

DURHAM Land Registry Office
590 Rossland Road East
Whitby, Ontario L1N 9G5
Telephone: 905-665-4007
Land Registry Offices E - G
[
edit
|
edit source
]
ELGIN Land Registry Office
1010 Talbot Street, Unit 36
St. Thomas, Ontario N5P 4N2
Telephone: 519-631-3015

ESSEX Land Registry Office
949 McDougall St., Suite 100
Windsor, Ontario N9A 1L9
Telephone: 519-971-9980

FRONTENAC Land Registry Office
1201 Division Street
Kingston, Ontario K7K 6X4
Telephone: 613-548-6767

GLENGARRY Land Registry Office
101 Main Street North
P.O. Box 668
Alexandria, Ontario K0C 1A0
Telephone: 613-525-1315

GRENVILLE Land Registry Office
499 Centre Street
P.O. Box 1660
Prescott, Ontario K0E 1T0
Telephone: 613-925-3177

GREY Land Registry Office
1555 - 16th Street East, Suites 1 and 2
Owen Sound, Ontario N4K 5N3
Telephone: 519-376-1637
Land Registry Offices H - K
[
edit
|
edit source
]
HALDIMAND Land Registry Office
10 Echo Street West
P.O. Box 310
Cayuga, Ontario N0A 1E0
Telephone: 905-772-3531

HALIBURTON Land Registry Office
12 Newcastle Street
P.O. Box 270
Minden, Ontario K0M 2K0
Telephone: 705-286-1391

HALTON Land Registry Office
2800 Highpoint Drive, 2nd Floor
Milton, Ontario L9T 6P4
Telephone: 905-864-3500

HASTINGS Land Registry Office
199 Front Street, Suite 109
Century Place
Belleville, Ontario K8N 5H5
Tel: 613-968-4597

HURON Land Registry Office
38 North Street
Goderich, Ontario N7A 2T4
Telephone: 519-524-9562

KENORA Land Registry Office
220 Main Street South
Kenora, Ontario P9N 1T2
Telephone: 807-468-2794

KENT Land Registry Office
40 William Street North
Chatham, Ontario N7M 4L2
Telephone: 519-352-5520
Land Registry Offices L - N
[
edit
|
edit source
]
LAMBTON Land Registry Office
Court House
700 Christina Street North, Suite 102
Sarnia, Ontario N7V 3C2
Telephone: 519-337-2393

LANARK Land Registry Office
2 Industrial Drive
P.O. Box 1180
Almonte, Ontario K0A 1A0
Telephone: 613-256-1577

LEEDS
Land Registry Office
7 King St. West
Brockville, Ontario K6V 3P7
Telephone: 613-345-5751

LENNOX Land Registry Office
7 Snow Road, Unit 2
Napanee, Ontario K7R OA2
Telephone: 613-354-3751

MANITOULIN Land Registry Office
27 Phipps Street
P.O. Box 619
Gore Bay, Ontario P0P 1H0
Telephone: 705-282-2442

MIDDLESEX Land Registry Office
80 Dundas Street, Ground Floor
London, Ontario N6A 5B6
Telephone: 519-675-7600

MUSKOKA Land Registry Office
15 Dominion Street
Bracebridge, Ontario P1L 2E7
Telephone: 705-645-4415

NIAGARA NORTH and SOUTH Land Registry Office
59 Church Street
St. Catharines, Ontario L2R 3C3
Telephone: 905-684-6351

NIPISSING Land Registry Office
Court House
360 Plouffe Street
North Bay, Ontario P1B 9L5
Telephone: 705-474-2270

NORFOLK Land Registry Office
Court House
50 Frederick Hobson VC Drive, Suite 201
Simcoe, Ontario N3Y 4K8
Telephone: 519-426-2216

NORTHUMBERLAND Land Registry Office
1005 Elgin St. West, Suite 105
Cobourg, Ontario K9A 5J4
Telephone: 905-372-3813
Land Registry Offices O - P
[
edit
|
edit source
]
OTTAWA-CARLTON Land Registry Office
Court House
161 Elgin Street, 4th Floor
Ottawa, Ontario K2P 2K1
Telephone: 613-239-1230

OXFORD Land Registry Office
480 Peel Street
Woodstock, Ontario N4S 1K2
Telephone: 519-537-6287

PARRY SOUND Land Registry Office
28 Miller Street
Parry Sound, Ontario P2A 1T1
Telephone: 705-746-5816

PEEL Land Registry Office
1 Gateway Blvd.
Brampton, Ontario L6T 0G3
Telephone: 905-874-4008

PERTH Land Registry Office
5 Huron Street
Stratford, Ontario N5A 5S4
Telephone: 519-271-3343

PETERBOROUGH Land Registry Office
300 Water St., 1st Floor, North Tower
P.O. Box 7000
Peterborough, Ontario K9J 8M5
Telephone: 705-755-1342

PRESCOTT Land Registry Office
179 Main Street East
Hawkesbury, Ontario K6A 1A1
Telephone: 613-636-0314

PRINCE EDWARD Land Registry Office
1 Pitt Street
P.O. Box 1310
Picton, Ontario K0K 2T0
Telephone: 613-476-3219
Land Registry Offices R - T
[
edit
|
edit source
]
RAINY RIVER Land Registry Office
353 Church Street
Fort Frances, Ontario P9A 1C9
Telephone: 807-274-5451

RENFREW Land Registry Office
400 Pembroke Street East
Pembroke, Ontario K8A 3K8
Telephone: 613-732-8331

RUSSELL Land Registry Office
3 - 717 Notre Dame Street
Embrun, Ontario K0A 1W1
Telephone: 613-443-7852

SIMCOE Land Registry Office
Court House
114 Worsley Street
Barrie, Ontario L4M 1M1
Telephone: 705-725-7232

STORMONT Land Registry Office
720 - 14th Street West, Unit 2
Cornwall, Ontario K6J 5T9
Telephone: 613-932-4522

SUDBURY Land Registry Office
199 Larch Street, Suite 300
Sudbury, Ontario P3E 5P9
Telephone: 705-564-4300

THUNDER BAY Land Registry Office
189 Red River Road, Suite 201
Thunder Bay, Ontario P7B 1A2
Telephone: 807-343-7436

TIMISKAMING Land Registry Office
375 Main Street
P.O. Box 159
Haileybury, Ontario P0J 1K0
Telephone: 705-672-3332

TORONTO Land Registry Office
20 Dundas Street West, Suite 420
Toronto, Ontario M5G 2C2
Telephone: 416-314-4400
Land Registry Offices V - Y
[
edit
|
edit source
]
VICTORIA Land Registry Office
Provincial Court Building
322 Kent Street West
Lindsay, Ontario K9V 4T7
Telephone: 705-324-4912

WATERLOO Land Registry Office
30 Duke Street West, 2nd Floor
Kitchener, Ontario N2H 3W5
Telephone: 519-571-6043

WELLINGTON Land Registry Office
1 Stone Road West
Guelph, Ontario N1G 4Y2
Telephone: 519-826-3372

WENTWORTH Land Registry Office
119 King Street West, 4th Floor
Hamilton, Ontario L8P 4Y7
Telephone: 905-521-7561

YORK REGION Land Registry Office
50 Bloomington Road West, 3rd Floor
Aurora, Ontario L4G 0L8
Telephone: 905-713-7798


____________________________________________________________

Information in this Wiki page is excerpted from the online course Canadian: Land Records Course Part 1 and Part 2 offered by The National Institute for Genealogical Studies. To learn more about this course or other courses available from the Institute, see our website. We can be contacted at wiki@genealogicalstudies.com

We welcome updates and additions to this Wiki page.