Ohio, United States Genealogy
Jump to navigation
Jump to search
Ohio Wiki Topics
Beginning Research
Record Types
Ohio Background
Cultural Groups
Local Research Resources
Guide to Ohio ancestry, family history, and genealogy birth records, marriage records, death records, census records, and military records.
This article is about the U.S. state. For other uses, see Ohio (disambiguation).
Ohio is a state in the Midwestern portion of the United States. Ohio became a state on 1 March 1803, having been created from the Northwest Territory, and it's capital is Columbus. It is divided into 88 counties. [1]
Getting Started with Ohio Research

Links to articles on getting started with Ohio research.

Ohio Research Tools

Links to articles and websites that assist in Ohio research.
Many genealogy records are kept on the county level in the United States. Click on a county below to go to the county Wiki article listing more information.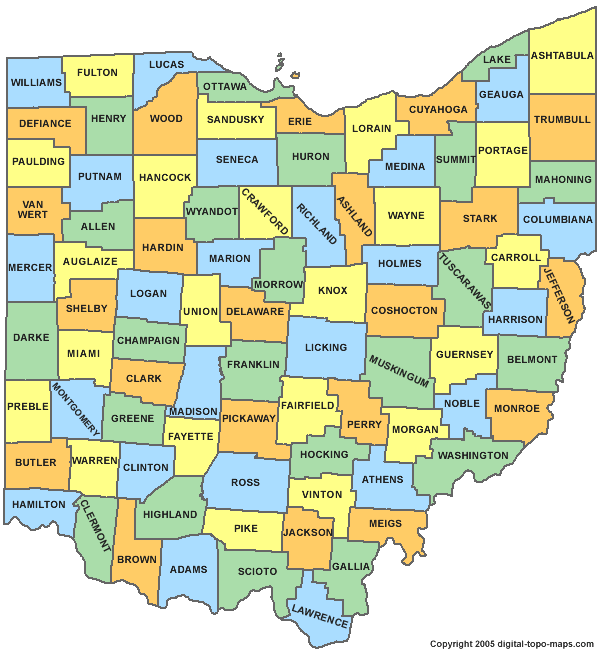 Extinct jurisdictions: Illinois (VA) · United States Military District Genealogy · Virginia Military District Genealogy · Connecticut Western Reserve Genealogy
Braddock's Road · Cumberland Road · Forbes Road · Erie Canal · Great Trail · Kanawha Trail · Lake Erie · Lake Shore Path (or Lake Trail)  · Maysville Turnpike · Miami and Erie Canal · Miami Trail · National Road  · Ohio and Erie Canal · Ohio River · Pennsylvania and Erie Canal · Scioto Trail · Tennessee, Ohio and Great Lakes Trail · Vincennes-Indianapolis-Detroit Road · Wabash and Erie Canal · Zane's Trace
Below are FamilySearch resources that can assist you in researching your family.