New York, United States Genealogy
Jump to navigation
Jump to search
New York Wiki Topics
Beginning Research
Record Types
New York Background
Cultural Groups
Local Research Resources
Guide to New York ancestry, family history, and genealogy birth records, marriage records, death records, census records, family history, and military records.

New York is a state in the northeast part of the United States. It is divided into 62 counties. New York State was the 11th state to join the Union on July 26, 1788. It came from the Crown Colony of New York. The State Capital is Albany.[1]
Getting Started with New York Research

Links to articles on getting started with New York research.

New York Research Tools

Links to articles and websites that assist in New York research.
Many genealogy records are kept on the county level in the United States. Click on a county below to go to the county Wiki article listing more information.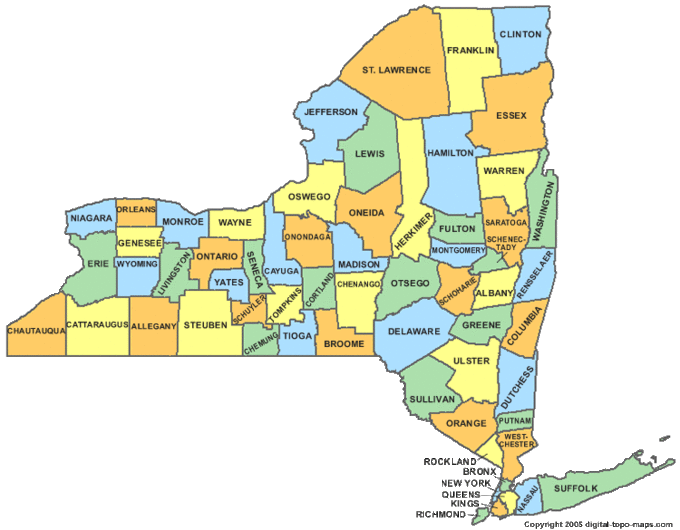 Cities: New York City, New York · Bronx · Kings · Manhattan · Queens · Staten Island Borough
Extinct or Renamed Counties: New Netherland Genealogy · Charlotte · Cornwall · Cumberland · Dukes  · Gloucester · Tryon · Yorkshire
Ellis Island, Castle Garden, etc. · Atlantic Coast Ports · Lake Champlain · Lake Erie · Lake Ontario · Long Island Sound · Hudson River · Mohawk River · St. Lawrence River · Chambly Canal · Champlain Canal · Delaware and Raritan Canal · Erie Canal · Albany Post Road · Catskill Turnpike · Forbidden Path · Great Genesee Road · Great Shamokin Path · Greenwood Road · Hudson River Path · King's Highway  · Boston Post Road · Lake Champlain Trail · Lake Shore Path  · Lehigh and Lackawanna Paths · Minsi Path · Mohawk or Iroquois Trail · New York Turnpikes · Old Connecticut Path
Below are FamilySearch resources that can assist you in researching your family.