New Mexico, United States Genealogy
Jump to navigation
Jump to search
New Mexico Wiki Topics
Beginning Research
Record Types
New Mexico Background
Cultural Groups
Local Research Resources
Guide to New Mexico genealogy. Birth records, marriage records, death records, census records, and military records.
New Mexico is a state in the western portion of the United States. It is divided into 33 counties. New Mexico was the 47th State to join the Union on January 6, 1912. The State of New Mexico was created from the New Mexico Territory. The capital city is Santa Fe. [1]
In the past, New Mexico has been "Santa Fe de Nuevo México" as part of the Spanish Kingdom, "Nuevo México" when the area was a province of Mexico, as well as New Mexico Territory and the state of New Mexico when it became part of the United States of America.
Santa Fe de Nuevo México was established in the early seventeenth and had an estimated population of 2,500 by 1680.
In the United States, New Mexico has the second largest Native American population by percentage. These tribes include Navajo, Pueblo and Apache. [2]
Getting Started with New Mexico Research

Links to articles on getting started with New Mexico research.

New Mexico Research Tools

Links to articles and websites that assist in United States research.
Genealogy records are kept on the county level in New Mexico. Click on a county below to go to the Wiki article listing more information.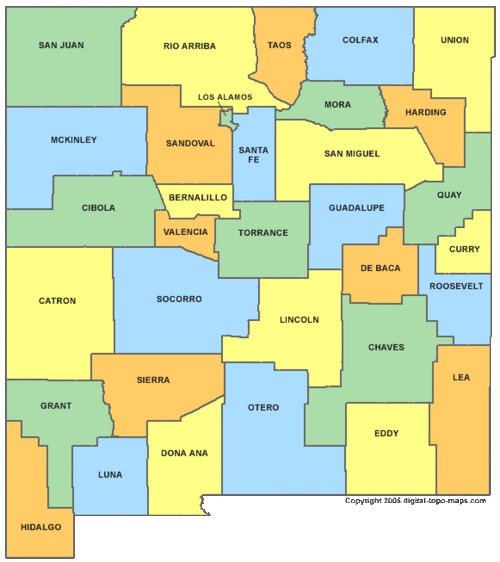 Counties: Many genealogy records are kept at the county level.

Extinct and former counties that might have records for your New Mexico ancestors:

See also: Previous Jurisdictions to Land in Arizona for further details on the self-proclaimed Arizona Territory.
Below are FamilySearch resources that can assist you in researching your family.