Nebraska, United States Genealogy
Jump to navigation
Jump to search
Nebraska Wiki Topics
Beginning Research
Record Types
Nebraska Background
Cultural Groups
Local Research Resources
Guide to Nebraska genealogy. Birth records, marriage records, death records, census records, and military records.
Nebraska is a state in the midwest portion of the United States. It has 93 counties. Nebraska was the 37th State to join the Union on March 1, 1867. The State was formed from the Nebraska Territory. Lincoln is the State Capital. [1]
Getting Started with Nebraska Research

Links to articles on getting started with United States research.

Links to articles and websites that assist in United States research.
Genealogy records are kept on the county level in Nebraska. Click on a county below to go to the Wiki article listing more information.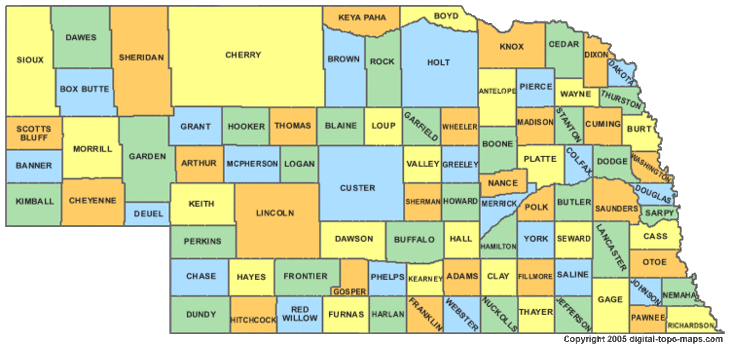 Extinct or Renamed Counties:
Blackbird | Calhoun | Emmet | Forney | Greene | Izard | Jackson | Johnston | Jones | L'Eau Qui Court | McNeale | Monroe | Shorter | West
| | |
| --- | --- |
| | The usage of "Mormon" and "LDS" on this page is approved according to current policy. |
Missouri River · Bozeman Trail · California Trail · Mormon Trail · Oregon Trail · Union Pacific Railroad
Below are FamilySearch resources that can assist you in researching your family.