Missouri, United States Genealogy
Jump to navigation
Jump to search
Missouri Wiki Topics
Beginning Research
Record Types
Missouri Background
Cultural Groups
Local Research Resources
Guide to Missouri ancestry, family history, and genealogy birth records, marriage records, death records, census records, family history, and military records. This article is about the U.S. state of Missouri. For other uses, see Missouri (disambiguation).
Missouri became the 21st state admitted to the United States on Aug. 10, 1821. Missouri was created from Missouri Territory. There are 114 counties in the state of Missouri and one independent city. The State Capital is Jefferson City. [1]
Getting Started with Missouri Research

Links to articles on getting started with Missouri research.

Missouri Research Tools

Links to articles and websites that assist in Missouri research.
Many genealogy records are kept on the county level in the United States. Click on a county below to go to the county Wiki article listing more information.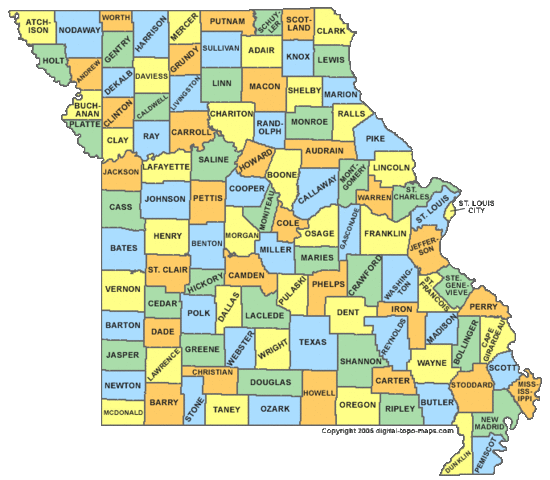 Independent City:  St. Louis City
Extinct or Renamed Counties:  Allen | Arkansas | Ashley | Dodge | Hempstead | Kinderhook | Lillard | Niangua | Rives | Van Buren
| | |
| --- | --- |
| | The usage of "Mormon" and "LDS" on this page is approved according to current policy. |
Below are FamilySearch resources that can assist you in researching your family.

Missouri Digital Heritage - vital records, land records, Civil War records, African-American community records, historical society newsletters, index to newspapers, census and naturalization records, and much more
Cyndi's List - Missouri genealogy sites on the internet
Missouri Genealogy Trails - collection of transcribed data for the state of Missouri
Access Genealogy – Genealogy guide for Missouri
Ancestorhunt.com - resources for Missouri genealogy research
Random Acts of Genealogical Kindness - Guide to Ancestry and Family Tree Records for Missouri
Missouri Research Outline – Original Family History Library research outline; contains many out of date links
MackleyGenealogy.com: has over 17,000 obituaries for Missouri (particularly the South-East portion) and it's free online. Some obituaries go as far back as 1830. Most of their obituaries are scanned copies of the actual obituary clippings.
Pamela Boyer Porter and Ann Carter Fleming. Genealogical Research in Missouri National Genealogical Society Quarterly 87 (June 1999): 85-116.

FHL

973 B2ng