Massachusetts, United States Genealogy
Jump to navigation
Jump to search
Massachusetts Wiki Topics
Beginning Research
Record Types
Massachusetts Background
Cultural Groups
Local Research Resources
Guide to Massachusetts ancestry, family history, and genealogy birth records, marriage records, death records, census records, and military records.
The Commonwealth of Massachusetts entered the Union on February 6, 1788, as the sixth state. Massachusetts was created from Province of Massachusetts Bay and is located in the New England region of the United States.[1] It is governed under its original constitution, which was adopted in 1780. Boston (also known as "The Hub" and "Beantown") became the capitol city of the Massachusetts Bay Colony in 1632. It has served as the state capitol since 1780. Massachusetts has 14 counties. [2]
A vital resource for locating historical records in Massachusetts is the text Report on the Custody and Condition of the Public Records of Parishes, Towns, and Counties[3], published in 1889, showing the existence and quality of existing records by each town and religion. Additionally, it states important dates of when towns may have separated or altered town lines.
Getting Started with Massachusetts Research

Links to articles on getting started with Massachusetts research.

Massachusetts Research Tools

Links to articles and websites that assist in Massachusetts research.
Massachusetts Clickable Map
[
edit
|
edit source
]
Many genealogy records are kept on the county level in the United States. Click on a county below to go to the county Wiki article listing more information.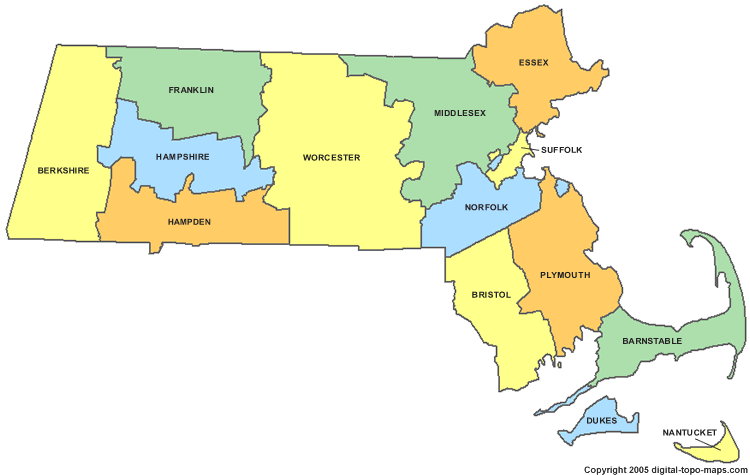 Obsolete Jurisdictions of Massachusetts:  Cornwall (ME)  · Devonshire (ME)  · Dominion of New England Genealogy  · Dukes (NY)  · Maine  · Massachusetts Bay Colony Genealogy  · New Hampshire  · New Netherland Genealogy  · Norfolk (old)  · Plymouth Colony Genealogy  · Yorkshire (ME)
Massachusetts Migration Routes
[
edit
|
edit source
]
Below are FamilySearch resources that can assist you in researching your family.