Germanna Foundation Library
Jump to navigation
Jump to search


German colonists came to the Virginia wilderness in 1714, sponsored by Governor Spotswood, hoping to have them mine silver. Those 42 pioneers were followed by 20 families in 1717. The First Colony came from the Siegerland area in Germany, and the Second from the Palatinate and Baden-Wuerttemberg area of Germany. Other families joined later.
Today the Germanna Foundation owns land in the original area, complete with a visitor's center, an archaeology lab, an historic mansion and an excellent genealogical library. Their mission is to tell America's story of liberty through the frontier experience of her settlers and descendants using archaeological, historical, and genealogical research and interpretation. They offer educational programs about the colony's history, and genealogical assistance for the many descendants.
In addition to research assistance, the Germanna Foundation publishes a series called the Germanna Record and members have access to a Database of Descendants. There is also a DNA project with Family Tree DNA to help identify relatives through genetics.
Germanna Foundation Conference & Reunion:
[
edit
|
edit source
]
The Germanna Foundation hosts an annual Conference & Reunion the weekend of the third Sunday in July. Typically this gathering features an opportunity to visit the Fort Germanna Visitor Center and the Fort Germanna / Enchanted Castle archaeological site, historic bus tours, historical & genealogical conference, an outdoor dinner at the c1757 Salubria mansion, an indoor banquet and auction, and a chance to worship at either Hebron Lutheran Church in Madison, VA or Little Fork Episcopal Church in Rixeyville, VA. The Germanna Conference & Reunion is a marvelous chance to learn more about the Germanna Colonists in the very place where they lived and struggled together.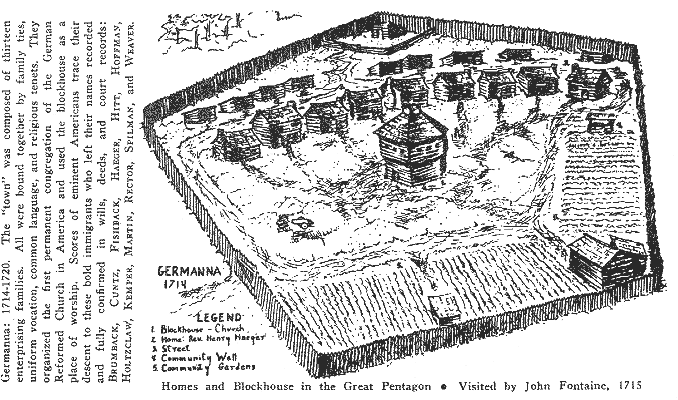 Membership is open to all, whether descendants of the early colonists, or someone who wishes to support the archaeological and historic preservation efforts.


Germanna Foundation
P.O. Box 279
Locust Grove, VA 22508-0279
Phone: 540-423-1700 (Tue-Sat, 1:00 pm – 5:00 pm)
Website: www.germanna.org