Camino Real de Tierra Adentro
Jump to navigation
Jump to search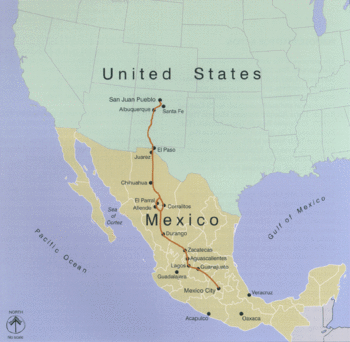 Camino Real de Tierra Adentro (English: Royal Road of the Interior).
In 1598 Juan de Oñate outfitted and led to the north several hundred Spanish colonists from Zacatecas, Mexico to establish the New Spain province of New Mexico.[1] They traveled to Chihuahua, El Paso, and then mostly followed the Rio Grande north to San Juan Pueblo (Tewa: Ohkay Owingeh) 25 miles (40 km) north of Santa Fe.
The trail route they pioneered came to be called the Camino Real de Tierra Adentro. It is the oldest and longest used (1598-1884) of all historical trails in what is now the United States. For more than a century it was also the longest length of trail in North America.[2] The trail traditionally reached from Mexico City to Santa Fe. The northern part of the Trail was also known as the Chihuahua Trail between Santa Fe, New Mexico and Chihuahua, Mexico and was a heavily used trade route from the 1830s to 1884.[3]
The wagon or carreta (large two-wheel ox cart) route in New Mexico was discontinued a few years after a branch of the Santa Fe Railroad linked Albuquerque, New Mexico to El Paso, Texas in 1882.[4]
Like most trails there were many variations, but the following towns were usually visited when following it from north to south:
San Juan Pueblo
Santa Fe
Albuquerque
Socorro
Las Cruces
El Paso
Juarez
Chihuahua
Zacatecas
Guanajuato
Mexico City
In 1821 the Santa Fe Trail opened between western Missouri in the United States and Santa Fe, New Mexico and the Camino Real. Further, in 1829-1830 the Old Spanish Trail opened as a link from Los Angeles, California to Santa Fe and the Camino Real.
For a list of settlers who used the Camino Real de Tierra Adentro to come from old Mexico to New Mexico, see El Camino Real De Tierra Adentro: Five Waves of Settlers from 1598 - 1800.