Arizona, United States Genealogy
Jump to navigation
Jump to search
Arizona Wiki Topics
Beginning Research
Record Types
Arizona Background
Cultural Groups
Local Research Resources
Guide to Arizona ancestry, family history, and genealogy birth records, marriage records, death records, census records, and military records.
Arizona territory was created on 24 February 1863 from the western half of New Mexico territory. Later, the northwest corner of Arizona was removed and given to Nevada on 18 January 1867. After nearly 50 years of being a territory, Arizona became the last of the contiguous forty-eight states in the Union on 14 February 1912.[1] It is know officially as "The Grand Canyon State," but was referred to informally as "the Baby State" until Alaska became a state in 1959. There are 15 counties in Arizona and the capital is Phoenix.[2]
Getting Started with Arizona Research

Links to articles on getting started with Arizona research.

Arizona Research Tools

Links to articles and websites that assist in Arizona research.
Many genealogy records are kept on the county level in the United States. Click on a county below to go to the county Wiki article listing more information.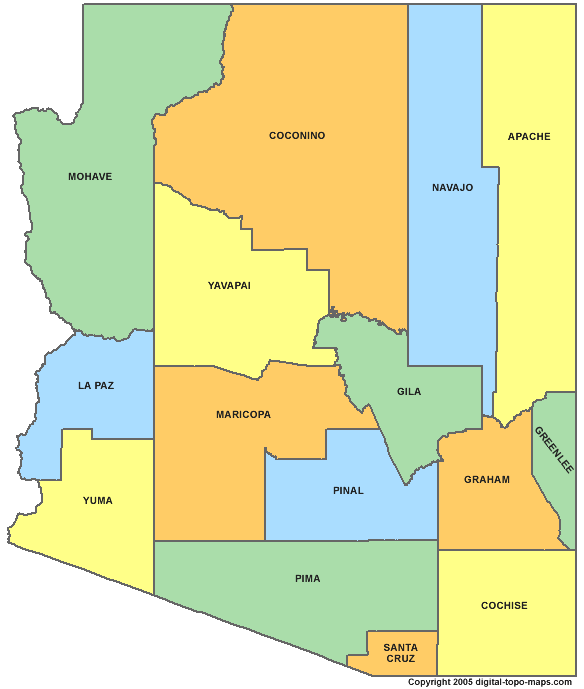 Extinct and former counties which might have records for your Arizona ancestors:
See Previous Jurisdictions to Land in Arizona which shows when counties were created, maps, and where their records are now located.
See also Arizona County Creation Dates and Parent Counties
FamilySearch resources that can assist you in searching for your family.