Indigenous Peoples of the United States Military Records
Jump to navigation
Jump to search
Native American Topics

Buffalo Hunt under the Wolf-Skin Mask

Beginning Research
Tribes
Record Types
Bureau of Indian Affairs
Other Topics
Native Americans Service in Wars of the United States
[
edit
|
edit source
]

Click this button for links to databases, indexes, or sites that help you find an American Indian ancestor by topic or tribe.
Revolutionary War (1775-1783)
[
edit
|
edit source
]
Tribes on the British/Canada Side
About 35 tribal nations fought with the British and Canadians during the War of 1812.[1] Tecumseh, the Shawnee war chief, worked to unite the Indians with the British.
Some of these nations were:
Tribes on the U.S. Side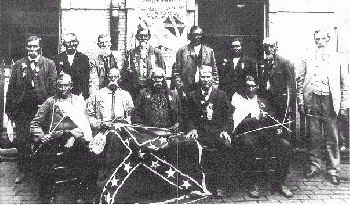 See Indigenous Peoples in the American Civil War for information about American Indian Civil War records, web sites, etc. with links to articles about the American Indian regiments involved in the Civil War.

The regimental pages often include lists of the companies with links to the locations where the companies started. Men in the companies often lived in the locations where the companies were raised. Knowing a location can help when researching more about the soldiers and their families.

The Civil War Soldiers and Sailors System allows name searching for soldiers. The result set gives the regiments for the soldiers. Then you can check the Wiki regiment pages to determine locations. Often knowing the locations that had men in a regiment will help you determine if a soldier was your ancestor.
Images available in the National Archives Catalog (NAID)

Correspondence, Reports, and Other Records Relating to American Indians Serving with the American Expeditionary Forces. NAID 6704646
All American Indians men were required to register for the draft, although in many sates they could not vote. A total of 24,521 American Indian men served in the U.S. armed service during World War II.
Many southwestern Indians served in National Guard unites set to the Philippines (the 200th Coastal Artillery Regiment), which was captured by the Japanese and sent on the infamous Bataan death march.
Other refused to register on the basis of religious or political grounds, a few Pagagos, some Ute, six Hopies, some Iroquois Confederacy, and a number of Seminole Nation.
The Seminoles refused to register on the grounds that they were still at war with the U.S.
The Iroquois objected because they did not consider themselves citizens of the U.S.
The Papagos because they followed a religious leader who prohibited killing.
The conservative Pueblos resisted sending their young men to the draft.
In all, more than 70,000 American Indian men and women left the reservations to enter military service or work in defense industries.

There were Code Talkers During World War I and World War II. Code Talkers used their unique languages as a means for secret communications. Code Talkers were of the Navajo, Cherokee, Choctaw and Comanche Indian tribes.
Indians were employed as scouts from Colonial times onward, their service reaches its height in post-Civil War conflicts.
Military Actions 1866-1891
[
edit
|
edit source
]
Source: Chronological List of Actions, &C., With Indians, From January 1, 1866, to January, 1891. Adjutant General's Office. WorldCat

Date, Place of Action, Troops Engaged, Commanding Officer.
6 Jan. 1867 Crooked River, Oregon, Indian Scouts, Srgt. W. Brewster, 3rd Cav.
19 Jun. 1867 Steins Mountain, Oregon, Det., Indian Scouts, Chf. Scout Archie McIntosh
20 Jun.1867 Black Hills, on U.P. Railroad, Nebraska C, Pawnee Scouts, Maj. Frank North,
5 Jul.1867 Dunder and Blitzen Creek, Oregon, 1st Cav., F and M, and Indian Scouts, Lt. Col. George Crook 23 Inf.
13 Jul. 1867 Malheur River (S. Fork), Oregon, 23d Inf. det. K, and Snake Indians, Lt. G.A. Goodale
17 Aug.1867 Plum Creek, Nebraska, Pawnee Scouts, Capt. Jas. Murie, Chf. Pawnee Scouts
26-28 Sep1867 Infernal Caverns, near Pitt River, California, 1st Cav. H: 23 Inf., D; and Boise Scouts. Lt. Col. Geo. Cook, 23d Inf.
14-15 Nov.1867 Tonto Creek, Arizona, Indian Scouts, det.
12 Dec.1867 Owyhee River, Oregon, Indian Scouts, Interpreter D.C. Pickett
4 Jan. 1868 Owyhee River, Idaho, Indian Scouts and Men M. 1st Cav. Interpreter D.C. Pickett
5 Apr. 1868 Malheur River, Oregon. 1st Cav., F: 8th Cav. , C: 23 Inf. K, deta,; and Indian Scouts. Capt. David Perry, 1st Cav.
23 Apr. 1868 Harney, Camp, Oregon, Det. of Scouts, Chf. Guide Archie McIntosh
29 May 1868 Owyhee River, Idaho, 1st Cav. det. M and Indian Scouts, Sergt. H. Miller
9 Jun 1868 Snake Canon, Idaho 23rd Inf. det. H and Indian Scouts, Corp. J. Moan