Each month, FamilySearch publishes a list of new changes and updates to the FamilySearch.org website. This list includes changes to Family Tree as well as other parts of FamilySearch.org. In some cases, these changes will also be published as individual articles where the need to do so exists.
Recently Released
Help Center
The FamilySearch Help Center has been improved to help you in your family history efforts:
The Get Help menu contains fewer options.
You can now search for help content directly from the Get Help menu.
Searches now include the Learning Center, research wiki, and knowledge articles. You previously had to search each resource separately.
Within the Learning Center (which contains video, presentations, and other training-type content), you can now see related courses organized into a series.
Simplified Get Help Menu
The new Get Help menu contains 6 options instead of 14:
0000017c-7f43-df3f-ad7d-ffefc1a70000Search All Help Resources at Once
To make finding help content even easier, a search field appears at the top of the Get Help menu. Simply enter your search terms, and click the magnifying glass icon. You can also click the Help Center option, and perform a search from there.
Previously you had to search each help and learning resource separately. Now with one search you can find several types of helpful content:
Articles from our Help Center that explain how to use FamilySearch.org, how to index, and other system-related content.
Video, presentations, and other lessons from our Learning Center.
Family history research help from the research wiki.
The list of search results is divided into sections, starting with knowledge-base articles, followed by lessons, and finally research wiki articles.
To see only the results for a specific type of help, simply click the Articles, Lessons, or Wiki links, which are located beneath the search field.
0000017c-7f43-df3f-ad7d-ffefc2350000Better Navigation in the Learning Center through Related Lessons, Series, and Keyword Tags
In the Learning Center, it is now easier to find other lessons and materials that are related or are about similar topics:
Other Lessons in the Series. If a lesson is part of a series, a panel along the left side of the screen shows other lessons in the series. Click a lesson title to view it.
Related Content. A list of related lessons appears beneath the keyword tags. Click a lesson title to view it.
Keyword Tags. Keyword tags appear beneath the description of the current lesson. Click a tag to see lessons that have the same tag.
Family Tree
Temple Ordinance Reservation Policy and Expiring Reservations
Within the next month, the Family History Department will begin unreserving temple ordinance reservations that have been inactive for more than two years.
If there are ordinance reservations you want to ensure are taken care of before they are released, share them with a family member, friend, or the temple. For some special reservations, you may want to unreserve them and then re-reserve them to keep them on your list. If you prefer to have the ordinances released, you don't need to do anything. If you have shared ordinances with the temple, these ordinances will not be released.
The Church previously announced the policy of unreserving ordinances that have been reserved for more than two years and has encouraged members to complete ordinances in a timely manner. Unreserving inactive temple reservations has become a priority because of the large number of ordinances that have been reserved longer than this two-year window.
Please see the FamilySearch Blog for more details.
More Record Hints
To help you learn more about your ancestors, Family Tree now contains approximately 141 million new record hints. These new hints come from 86 indexed collections.
For more information, see the article 141 Million New Ancestor Hints Added to FamilySearch Family Tree on our blog.
Mobile Updates
Several improvements have been made to the Family Tree mobile apps:
iOS and Android Updates
You can now send a message to another FamilySearch user by tapping on an event's modified or contributor name.
You can now view Messages in the app drawer.

You can now open a map on the places of a person's events.
Memories
View Contributors in Your Albums and Favorites Lists
In FamilySearch Memories, name of the contributor appears beneath the image's thumbnail and title when you are viewing the contents of an album or your favorites list:
If you click on the contributor's name, you will see the contributor card, from which you can send the contributor a message through the FamilySearch messaging feature.
New Upload and Select from Gallery Functions on Story Page
Two updates have been made to help you better view and navigate your Memories section. Now you have the ability to add an image to a story directly.
The photo selection dialog now displays larger thumbnails and lets you navigate your entire gallery, including albums.
Historical Records
U.S. GenealogyBank Obituaries
New functionality makes records from the U.S. Genealogy Obituaries collection even more valuable.
View the Transcription or Image of the Obituary
When a text transcript is available, FamilySearch now displays it along with the indexed data:
If a full transcript is not available, then you can still see the full text be viewing the image, which will either be on FamilySearch or viewable by going to the GenealogyBank site.
Extended Family Displayed with Indexed Data
If the index contains the names of extended family who attended the funeral, those family members are now shown with the rest of the indexed data:
Submit Requests to Correct Computer-Indexed Obituaries
In this collection, 23 million of the 31 million obituaries were indexed by a computer. When you view the indexed data, you will now see a message telling you that it was indexed by a computer.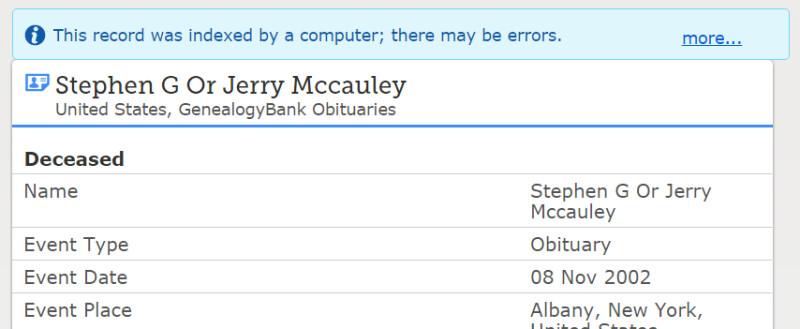 If the computer indexing process introduced an error, you can request a correction by clicking Errors, which is located at the bottom left corner of the screen. A specialized team of missionaries will review the change request and make any needed corrections.
This corrections feature is available for the U.S. GenealogyBank collection only. It is not available for censuses or any other indexed collections on FamilySearch.org.