Authentic Mexican food is more than just something you eat—it is something you experience.
Traditional Mexican food has a vibrant history and is tied to the heart of Mexican culture and values. Indeed, one of the best ways to understand your Mexican heritage is to understand its food.
History of Mexican Food
Many of the tastes, sights, and sounds of authentic Mexican food stem from three main Mexican cultures: Mayan, Aztec, and Spain, with Spain being the most heavily represented.
Mayan Influence
The Mayans were hunters and gatherers, and some of the most traditional foods come from the Mayan culture. Food made from corn was a staple, which is where corn tortillas derived. Mayans would often eat corn tortillas with a bean paste.
Aztec Influence
By the 1300s, the Aztec Empire was in full swing, but many of the Mayan foods were still at the forefront. The Aztecs would add salt, peppers, and even chocolate to their way of life. While the Aztecs often ate wild game, turkey and duck were domesticated by the Aztecs and more popular.
Spanish Influence
Two hundred years later, Spain invaded Mexico, and a whole flurry of new foods were introduced to Mexican culture. Dairy products, garlic, and many herbs and spices were introduced. New livestock—sheep, pigs, and cows—were also being eaten, with more emphasis on pigs.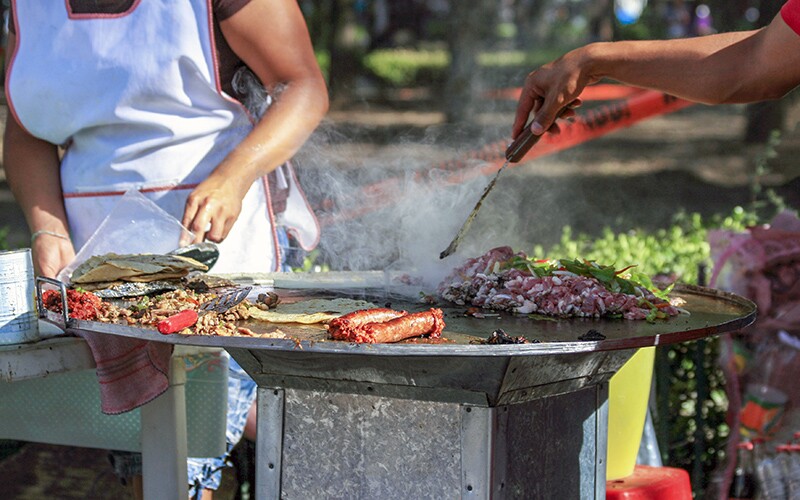 >The Spanish invasion brought with it tastes from many parts of the world, including Caribbean, French, and West African cuisines. Dishes also vary between Mexican regions.
Mexican Food Staples
Corn
Corn has been a main staple in traditional Mexican food for centuries. You can find it in some form at almost every meal in a Mexican home,whether in the form of a corn tortilla, tamales, a pozole(a rich and hearty corn stew), or countless other popular recipes.
One popular dish, elote, is made with grilled corn on the cob, chili powder, Mexican cheeses, and other seasonings.
Beans and Peppers
Beans and peppers are also widely served because they are inexpensive and grown natively,which means that they are easily accessible for almost everyone. It's not uncommon for a Mexican household to always have a pot of beans cooking on the stove.
One common dish that involves both corn and beans is fresh,homemade corn tortillas served with homemade frijoles(beans).
Celebrations with Traditional Mexican Food
Delicious food traditions go hand in hand with Mexican celebrations. When the Spanish ruled over Mexico, most Mexicans converted to Christianity, making Christian holidays a big time to celebrate. Many distinct dishes accompany these holidays.
Among these religious holidays are Dia de los Tres Reyes (Three Kings Day) and Día de Muertos (Day of the Dead), which both involve the making of special sweet breads.
Día de los Tres Reyes
Día de los Tres Reyes, or Three Kings Day, commemorates the wise men who brought gifts to the baby Jesus and is celebrated on January 6, twelve days after Christmas. Three Kings Sweet Bread is a traditional sweet made for the special occasion.
The bread is in the shape of a wreath, and baked into the treat is a small figurine of baby Jesus. Traditionally, whoever finds the infant figurine of Christ in their piece of the treat is supposed to host the party onDia de la Candelaria (Candlemas) on February 2.
Día de los Muertos
Día de los Muertos is a day for Mexican families to remember their dead by visiting and decorating graves, telling stories of their ancestors, and feasting on traditional Mexican foods. Pan de Muertos, another sweet bread, is made on this holiday.
The bread is made to represent a body, with the side pieces symbolizing the bones and the center piece representing the head.
Mexican Food Traditions—A Delight in Your Own Home
Cooking and celebrating with traditionalMexican foods is a great way to remember ancestors and understand your heritage. Eating recipes from your heritage while chatting around the dinner table is a tradition you can create in your home.
Discover Your Mexican Heritage