FamilySearch is always working on updates and improvements to our online experience, in order to help people all around the world find and connect to their families, past and present. This article shows FamilySearch experience changes that were made in 2020. To see more recent updates, visit FamilySearch Updates Enhance Your Experience.
December


Add Labels to People You Follow in the FamilySearch Family Tree

November


Simplified FamilySearch Help Menu
Updates to Settings Page
Search Alternate First and Last Names
Share Slideshows on Memories

October


New Indexing Places Lookup Feature

September
August


Changed "Like" to "Bookmark" in Memories
Set Privacy on Specific Memories

July


"My Contributions" on Desktop
Changes to Watch Feature

June


Improve Place-Names
No Longer Using Labels
Add Multiple Topic Tags
Improved Memories Search

May


Account Creation for Children
Change Log
Indexing Group Reports
Standardized Places

April


Record Merging Process
Print Options for Fan Chart

March

February


Sharing and Liking Albums
Explore Historical Images
Topic Tags Added to Memories
Header Redesign

January

Update December 9, 2020—Add Labels to People You Follow in the Family Tree
Did you know that you can follow people on the Family Tree? You can, and it's a great way to organize your ancestors and find them again easily! FamilySearch has updated the Following feature to include a labeling option, which allows you to add labels to the people in the Family Tree that you are following to make your list even more manageable.
To add a label, first navigate to your following list by clicking the Family Tree tab and selecting Following from the drop-down menu. To the right of a person you are following, click the three dots, and select Add Label from the drop-down menu. You can also add labels by clicking the People I am Following button.
A box will appear, giving you the option to select a label from a drop-down menu or to create your own custom label by clicking Create New Label. You can also add notes for future reference. Once you've added a label, click Save Label. Labels you add or create are visible only to you.
To organize the people you follow by labels, click the Options button at the top right of the Following page, and select the labels you wish to use to filter your following list.
Labels are a great way to remind you why you are following a person, organize the list of people you follow on the Family Tree, or indicate the next steps you would like to take in your research.
Update: November 13, 2020—Simplified FamilySearch Help Menu
The FamilySearch help menu makes it easy to find the help you need when you're working on your family history. A recent update to the help menu makes it even easier to get around roadblocks and achieve your goals. Read about the latest changes.
Update: November 5, 2020—Updates to Settings Page
A recent update has changed the way your FamilySearch account settings are organized. Settings now fall under three main categories: Account, Notifications, and Permissions. Each setting is made easy to choose or disable with simple edit buttons or toggle sliders.
The Notifications section has been updated to allow you to quickly change your settings on notifications through email and text. Now, it is easier than ever to decide just what information you want to be notified about and how.
This update will make it easier for you to customize your personal account preferences and permissions. Go to your account settings, and see what's new!
Update: November 3, 2020—Search Alternate First and Last Names
You can now enter a person's alternate first and last names when searching records on FamilySearch. For example, you can search a person's maiden surname and married surname in one search query on FamilySearch.org. To search alternate first or last names, click the blue Name link on the Search Historical Records page, and fill out the name details in a new name box.
Below are a few scenarios for when you might want to use the search alternate names feature.
Example 1: You are searching records for a woman who changed her last name when she married.
Often, because of changing surnames, it is more challenging to discover details about your female relatives than it is to discover details about male relatives. The new update makes it easier to find records for both a person's maiden and married surname in one search.
For more tips on searching and discovering information about women in your family tree, check out this article.
Example 2: You are searching records for someone who had a nickname.
Sometimes, a person in your family tree goes by their middle name or a nickname. Your grandmother could be named Dorothy, but may have been known by the name "Dolly" her whole life and used that nickname for census and other records. Now, you can search alternate first names in one go.
Example 3: Your ancestor had multiple last names.
In some countries and culture, people have multiple last names. For example, in Mexico, many people have two last names (apellidos), one representing their mother's surname and one representing their father's. You can fill out multiple alternative surname boxes with these additional last names, making it easier to find records on your family.
Update: November 2, 2020—Share Slideshows on Memories
Earlier this year, FamilySearch released a feature that allows users to create slideshows out of their albums on Memories. Now, you can share your Memory slideshows!
To share a slideshow, first go to your Memories Gallery, and choose the album you want to use to create a slideshow. At the top of the album, click Slideshow. You can also reorder the images in the slideshow by clicking the Reorder link.
Once you start playing your album slideshow, you will see in the top right corner a Share button. Click this button, and select in the drop-down menu how you want to share your slideshow. The person you share your album slideshow with does not need to have an account to view the slideshow.
Visit Memories to check out the new update and share your album slideshows!
Update: October 29, 2020—New Indexing Places Lookup Feature
FamilySearch has added an update that will help users more quickly and accurately index place-names for FamilySearch indexing. After you enter at least three characters in a location field, the new feature automatically suggests possible place-names that are relevant to the project. Click a suggested place-name, or select the place-name, and press Enter. If the suggested places don't match what you see on the document, type what you see, and the press Tab.
Indexers should not select place-names that are close to what is in the document; they should select only place-names that are the same as what is in the document. When in doubt, type what you see on the document. The system does not always include all the possible place-names that might be encountered in a project.
This places lookup feature will start to appear in some new projects going forward. Existing projects will not change.
Update: August 18, 2020—Changing "Like" to "Bookmark" in Memories
The Like buttons on FamilySearch Memories pages will now say Bookmark instead of "Like." This term better matches how the buttons work. The bookmark feature will continue to allow you to mark your favorite memories and see them in a Bookmarks collection, which can be found in the left sidebar of the Memories Gallery.
Update: August 18, 2020—Set Privacy on Specific Memories
On FamilySearch.org, you will now be able to select any memory you have uploaded or story you have created and make it private. This feature will be available for all types of memories, including photos, stories, and audio files. Private memories will be viewable only by the person who uploaded or created the file.
Although FamilySearch Memories is primarily a place for people to share photos and stories, there may be times when you may not want a memory to show on a public profile or on a Memories search results page.
Visit the Memories page or open the Memories App (available on iOS or Android) to see how the new privacy feature works. Hover over an item in the Gallery, and click the checkmark. Then click Actions,and, in the list of options, click Make Private.
Update: July 13, 2020—"My Contributions" available on Desktop Site
Previously, the "My Contributions" feature, which allows users to see ways that they have helped to build the FamilySearch Family Tree, was only available on the FamilySearch Tree App. Now, the feature is available on the desktop version of FamilySearch.org. To access "My Contributions", select "Family Tree" on the FamilySearch header. A drop-down will appear; the last option, "My Contributions", will allow you to view the work you have done to further your genealogy.
Check the FamilySearch Blog for more information on the "My Contributions" feature.
Update: July 13, 2020—Changes to Watch Feature and Watch Notifications
The Watch feature on FamilySearch.org—which notifies you of changes to a person's information in the Family Tree—has been renamed "Follow." This term is similar to what other social media sites use and is more intuitive. In addition to this name change, the Lists drop-down menu option is now labeled "Following." The Following page shows a list of the persons you follow and a history of recent changes.
To follow a person's changes in the Tree, you can click Follow on their profile page. Also, anywhere an ancestor name appears in Family Tree, you can click the name to show the Person Card, and then you can click Follow. To unfollow a person, click Following. Notice that the star is filled in when you are following the person.
You can view a list of the people you are following and see all the changes to them for the last 60 days. Just click the Following tab found at the top of the Family Tree or person page.
Notifications of changes made to people you are following will now appear only in FamilySearch messages or notifications, rather than in an email. This change helps avoid excessive messages and unnecessary cluttering of your mailbox.
Update: June 07, 2020—Improve Place-Names Online Volunteer Opportunity
In the past, FamilySearch has used automation to help improve place-names that are missing standards—but automation can do only so much. A new tool is available (on both desktop and mobile) that allows you to help improve place-names by matching them with a standard place that can be recognized by a map.
This simple volunteer opportunity takes very little time but has a big impact on the Family Tree. With better place-names, FamilySearch can provide more free record hints and can map your ancestors' life events more accurately.
Learn more about the improve place-names tool, or try it now.
Update: June 17, 2020—No Longer Using Labels
The label tool in the right sidebar of FamilySearch person pages will no longer be used as a way to note an ancestor was part of a well-known group or participated in a historical event, and the corresponding labels (previously shown in the top right corner of a person page) will be retired.
| | |
| --- | --- |
| Example from Before Update: | After Update: |
While existing labels will be removed, FamilySearch users can still add rich details about their ancestor's involvement in these groups and events by using these different methods:
Update: June 4, 2020—Add a Topic Tag to More Than One Memory at a Time
Earlier this year, FamilySearch added the topic tags feature to Memories. Topic tags make it easier for users to categorize and find memories later. Now you can add a single topic tag to multiple memories at the same time.
Update: June 4, 2020—Improved Memories Search
Recent improvements to Memories have made searching Memories easier and faster than ever before. Below are a few updates you may notice to the search experience:
Results now display up to 10,000 artifacts per search.
Boolean search strategies—such as using AND, OR, NOT, "phrase," and wildcard*— are more effective. (Learn how to use Boolean search.)
Stop words (words that search engines typically ignore) are now recognized by language.
Stem searches are now supported by language. For example, a search for "fish" will turn up search results with related words such as "fishing," "fished," and "fisher."
Update: May 28th, 2020—Updates to Account Creation for Children
It is now easier than ever for children ages 8–12 to create a FamilySearch account. Parental permission is still required for children in this age group to create a FamilySearch account; however, the process has been streamlined. A new option was added to allow parents to use a text message to confirm their permission for their child's account. Parents can also use a mobile number to give their child permission to create an account, and they can use the same mobile number to recover the account. So you and your family members can create accounts using only one mobile number.
Update: May 15, 2020—Change Log Updates
The change log for ancestors in the FamilySearch Family Tree has been updated, making it much simpler to see changes made to an ancestor's profile. To view the updated change log, go to an ancestor's page, and, under the Latest Changes tab, select Show All. A page will open that shows in a simple-easy-to-digest summary every change made to that ancestor's profile.
It's also now possible to filter changes using a button on the upper right side of the page. Select an option to see all changes related to that option—whether it is a change in a relationship, an alternate name, life events, and more.
Update: May 7, 2020—Change to Indexing Group Reports
To preserve privacy, information in indexing group reports has been updated to show only a summary of the records indexed and number of people participating. This updated report also helps indexing groups and indexing group coordinators focus more on accuracy over quantity of indexed batches.
Have you ever joined an indexing group on FamilySearch.org? Or created one? An indexing group is a great way to collaborate and stay motivated while indexing. Even better, you can participate in an indexing group remotely or in person, whichever best fits your circumstances.
For some fun ideas of how to index as a group without relying on individual statistics, read this article.
Update: May 5, 2020—Standardized Places
A systemwide update will take place for a small percentage of places listed in the FamilySearch Family Tree that are not standardized properly. FamilySearch strives to have standardized places and dates to improve record matching and other user experiences.
In cases where a place listed in the Family Tree is not a location, FamilySearch will remove the attached standard, though the original text entry will remain. When the standard is removed, the change will appear with the contributor listed as "FamilySearch" and the date the change occurred. This change will cause a data problem message to appear for vital events. Users who notice the data problem can correct the standard by editing the place data.
This update will help provide more standardized place entries, resulting in better record hints and better matching for possible duplicates. It will also help improve discovery experiences on FamilySearch.org.
Update: April 9, 2020—Additions to Record Merging Process
Merging two records into one can be an intimidating process. However, new updates to the merging process can help you make the decision. For example, when you begin reviewing possible duplicate records, you may see a merge warning at the top of the screen. This warning lets you know if the two records have previously been merged and will give you some of the details.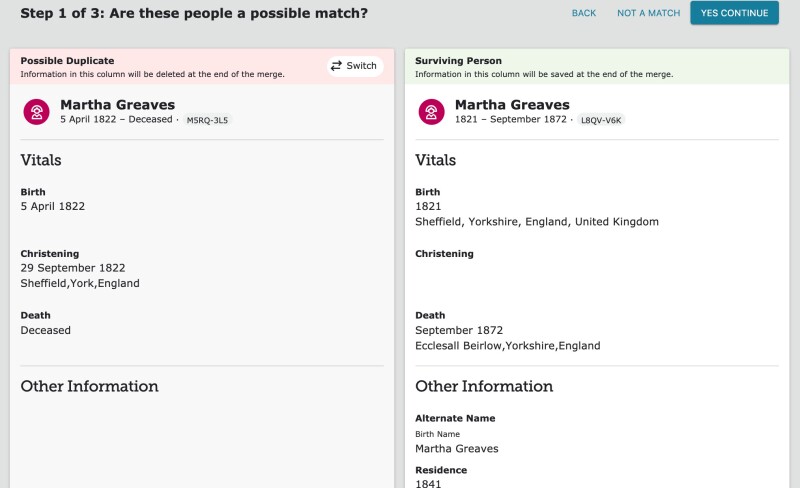 Additionally, the merging process now displays the possible duplicate on the left and the current record on the right. This change means you are merging the record on the left into the record on the right. This simple adjustment matches the rest of the website and will help the process flow more smoothly.
Learn more about the merging process.
Update: April 11, 2020 — Expanded Print Options for Family Tree Fan Chart
FamilySearch.org users now have more printing options for the fan chart display on Family Tree. Not only can they print a fan chart that shows up to seven generations, but any of the seven fan chart views can be printed. These views include Family Lines, Birth Country, Sources, Stories, Photos, Research Helps, and Ordinances.
Learn more about the Family Tree fan chart.
Update: March 5, 2020 —Mobile App Fan Chart Update
The FamilySearch Family Tree app now has a new way to see your family story—the fan chart, which was previously available only on a laptop or desktop! To turn on this feature, go to your app settings, and select Enable Fan Chart View. You can toggle this selection on or off as desired.
With the fan chart view enabled, you will see a small button in the lower corner that allows you to customize your fan chart view. The fan chart view can show four to seven generations and can be viewed from several perspectives—family lines, birth country, number of sources,stories or photos attached to profiles, and which ancestors have research recommendations. Latter-day Saint users are also able to view which ancestors have ordinances available.
Download the FamilySearch Family Tree app, and give this update a try!
Update: February 20, 2020—Sharing and Liking Albums, Album Slideshows on Memories
Albums on Memories can now be shared easily to Facebook, Twitter, and Pinterest via the Share menu in an album.
FamilySearch users can also now "Like" an album. Liking an album is a way to bookmark an album that belongs to another user. To like an album, click the blue heart Likeicon located below the album title. All liked albums display in the user's My Likes list in the gallery.
Additionally,you can view your album's photos in a slideshow. To play a slideshow, click on the Slideshow icon below the album title. A window will pop up and give you the options to loop the slideshow or include audio (if the images have audio).
Update: February 18, 2020—Explore Historical Images Unlocks Data in Digital Records
Have you ever tried searching for your ancestor's name in online records? FamilySearch, FamilySearch partners, and volunteers worldwide have worked to make over 3 billion records easily findable online with a very simple name search. But did you know that these indexed records represent only 20 percent of the historical records FamilySearch has available online?
Well ahead of any formal indexing or cataloging, the new FamilySearch Explore Historical Images tool can help you find records about your ancestors more easily, even when their information is not text-searchable and seems to be locked inside a digital image. Learn more here.
Update: February 6, 2020—Topic Tags Added to Memories
FamilySearch Memories released a new feature, "Topic Tags,"that makes it easier than ever before to categorize and find memories.
On the website, the topic tags option is found to the right of images and documents that you are viewing in Memories. Just click the link Add Topic Tags to add tags such as "Recipes," "World War II," "Wedding," and other descriptive terms. Once you start typing, a drop-down menu will give you ideas.
Later, when you want to find memories with a specific topic,you can click the Find tab, select the Search Topic Tags option,and search all of FamilySearch Memories for photos tagged with the topic you are looking for. You can limit your searches to close relatives only by clicking the option Search Only My Close Relatives, found on the search results page.
Update: February 5, 2020—Header Redesign on FamilySearch.org
The FamilySearch website has a new, streamlined header that is more readable and takes up less space. The Help menu is now more visible and easier for users to find.
Also—exciting news!—the new Activities page, created early in 2019, has a prominent position in the main header. To discover more about yourself and your family, simply click Activities at the top of the page on FamilySearch.org.
Update: January 15, 2020—Free 2020 Calendar
FamilySearch has made it possible to print out a free 2020 Calendar that gives you dates that would have been important to your ancestors. This calendar includes birth dates, death dates, and wedding anniversaries. Additionally, it is now possible to get calendar reminders in your FamilySearch notifications. These reminders will notify you on the date of your ancestor's event, and tell you how many years it has been since that day. Click here to view your own personalized calendar and download a free copy.
All about the FamilySearch Family Tree