One of our goals at FamilySearch is to create a research experience that is fast and efficient. That's why, when you visit our site or use our app, you come across so many different tools. You can attach photos, list sources, use record hints, and search partner sites, and the list goes on.
However, in some cases, you might have limited internet bandwidth that doesn't allow all the bells and whistles of the website to run smoothly. Or maybe you simply want to save on data usage. For these circumstances, we have created a streamlined version of FamilySearch's Family Tree, known appropriately as Family Tree Lite.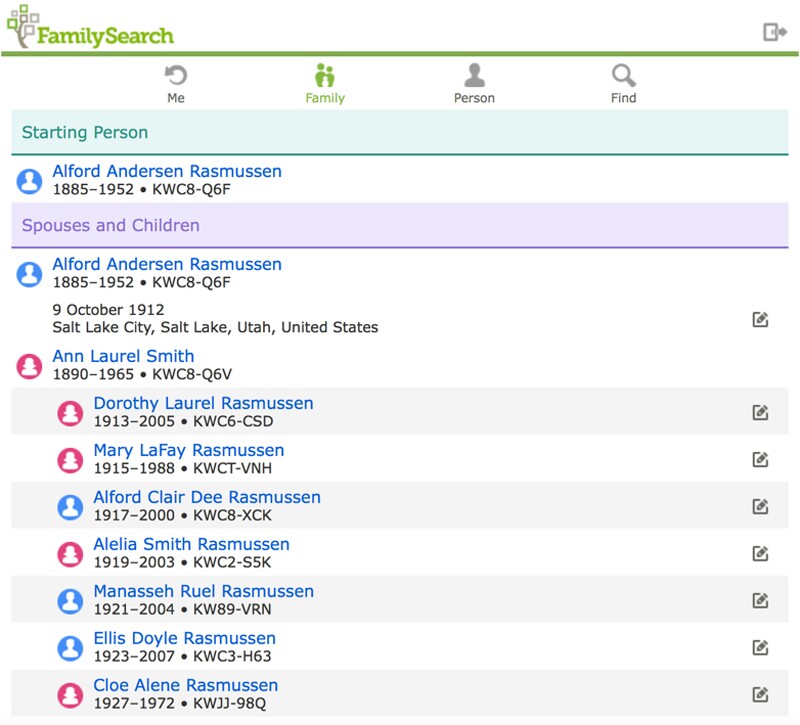 Back to the Basics
Family Tree Lite takes the essence of Family Tree and cuts away all the extras. Here are some of the differences you will notice immediately:
Families are formatted in lists, not trees.
Information on individuals is summarized into vital information and links to spouses and parents.
There are no Memories features, such as photos or audio.
Sources are no longer visible.
Links to partner sites have been removed.
There are no record hints.
Don't worry. All this information is still stored on the full FamilySearch.org website and in the Family Tree app. And whatever information you add or change in Family Tree Lite will also be reflected in these two locations. The idea is that Family Tree Lite allows you to continue working on your tree in situations where you otherwise would be bogged down because of limited internet bandwidth.
Personal Screen
You will also notice that the menu options at the top of the main screen offer only a few simple options:
Arrow"Me" icon: Return to information about you and your immediate family.
Family icon: Return to the information about the family of the person you are viewing.
Person icon: Return to view the person you were researching.
Magnifying Glass icon: Search for a relative in your family tree.
Clicking the Edit button brings you to this screen, where you can change information.
Edits and Updates
The process of making changes to your family tree is simple. Navigate to an ancestor's person page, and click Add for any detail that needs to be added. To change what is already there, select the detail, and then click Edit. More complex changes, such as merging or adding sources, can be done only on the main FamilySearch.org site or in the Family tree app.
The Benefits of Family Tree Lite
Family Tree Lite is designed be used in locations where Internet connectivity is slow,unreliable, or possibly expensive. Through this service, we are better able to give people all throughout the world the opportunity to experience the joy of family history.
Even those who may not need to use Family Tree Lite can experience the added bonuses of going back to the basics. The simpler display can help illuminate problems or holes in family tree information that may have been overlooked. This simplified view allows you to drill down to the meat of the matter—your family.
In life, unexpected benefits often come from going back to the basics. This concept is at the heart of Family Tree Lite.
More about How to Use the Family Tree